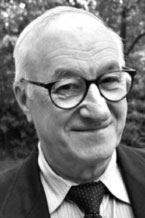 Albert Bandura
51MA, 52PhD
Achievement 2005
---
Albert Bandura, 51MA, 52PhD, is one of the most eminent psychologists of our time, having been recently ranked in the Review of General Psychology among the top psychologists of the 20th century—fourth only to B. F. Skinner, Jean Piaget, and Sigmund Freud.
Bandura is known as psychologys most cited contributor for his many influential theories, innovative experimental research programs, and significant applications of that wisdom to practical domains. His brilliant scholarship has been an invaluable resource for academics, practitioners, and public policymakers.
Best known as a leading proponent of Social Learning Theory, Bandura has influenced many areas of psychology, from psychotherapy and behavior modification, to the fields of medicine and criminology and the roots of aggression. His Social Cognitive Theory is regarded as one of the most powerful and frequently quoted formulations ever developed. It is recognized by psychologists and other social scientists and educators throughout the world.
Banduras original insights into the links between mind, behavior, environment, and culture are having an enormous impact through their translation into social action, and he has contributed to public television programs around the globe that are promoting personal and society-wide changes that are bettering peoples lives.
The David Starr Jordan Professor of Social Science in Psychology at Stanford University, Bandura holds honorary degrees from Penn State and Indiana University, as well as a dozen other universities in this country and abroad.
A direct indication of Banduras far-reaching impact is the phenomenal number of his scholarly articles that have come to be considered major works in the field; his original paper on self-efficacy and its role in performance, psychopathology, and personality development has been cited nearly 5,000 times. His publications have been translated into several languages, attesting to the importance of his work on an international scale.
Among his many awards and accolades, he is the recipient of the William James Award of the American Psychological Society and the Thorndike Award for Distinguished Contributions of Psychology to Education. The American Psychological Association honored Bandura for his work with its Outstanding Lifetime Contribution Award in 2004. He has been elected to the American Academy of Arts and Sciences and to the Institute of Medicine of the National Academy of Sciences.
Bandura served as president of the American Psychological Association in 1974 and chair of the board of directors of the American Psychological Association from 1972 to 1976. He was president of the Western Psychological Association in 1980, honorary president of the Canadian Psychological Association in 1999, and has served on numerous other national and international boards and committees in his field.
Bandura has brought distinction to the University of Iowa, most particularly to the Department of Psychology. For his unparalleled career as one of psychologys premier theorists, scholars, researchers, and social reformers, the UI Alumni Association is proud to present him with this Distinguished Alumni Achievement Award.