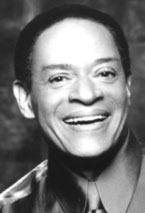 Al Jarreau
---
Al Jarreau, 64MA, has achieved artistic success with a musical talent and innovative style that have made him one of the most exciting performers of our time.
Jarreau began singing at the age of four, harmonizing with his brothers and performing solo in his hometown of Milwaukee, Wisconsin. He received an undergraduate degree from Ripon College in Wisconsin and enrolled at the University of Iowa in 1962, earning his masters degree in Rehabilitation Counseling from the UI College of Education two years later. While at the UI, Jarreau pursued his musical interests by playing and singing in local clubs.
After graduation, Jarreau moved to San Francisco, where he worked as a rehabilitation counselor and performed part-time as a singer. In 1975, Warner Bros. Records signed him to a recording contract, and his debut album, We Got By, was released to unanimous acclaim, winning a German Grammy for Best New International Soloist. He won a second German Grammy for his follow-up album, Glow.
Jarreau embarked on his first world tour in 1977 and made a live recording, Look to the Rainbow, for which he won his first American Grammy for Best Jazz Vocal Performance. In 1978, his fourth album, All Fly Home, garnered a second Grammy for Best Jazz Vocalist. A string of innovative recordings followed, including This Time and the million-selling Breakin Away, which received Grammys for Best Male Pop Vocalist and Best Male Jazz Vocalist.
Since then, Jarreau has released recordings in a range of musical styles, including Al Jarreau Live in London, L is for Lover, and Hearts Horizon, which earned him another Grammy nomination, this time for best R&B album. His next recording, Heaven and Earth, received a fifth Grammy for Best R&B performance, making Jarreau one of the rare artists to win Grammys in the three categories of jazz, pop, and rhythm and blues.
In 1994, he released the album Tenderness, and in 1996 he accepted a three-month stint on Broadway playing the role of Teen Angel in the musical Grease! In 2001, Jarreau released the Best of Al Jarreau, and he was honored with a star on the Hollywood Walk of Fame.
Also that year, Jarreau returned to Iowa City to perform at Hancher Auditorium, at which time he publicly expressed his deep regard and affection for the University of Iowa. In June 2002, he taped an interview for the kickoff event for the UIs Good. Better. Best. Iowa campaign, which featured a student dance performance to his recording, Tomorrow Today.
At the heart of Jarreaus view of life is Accentuate the Positive, also the title of his most recent recording. According to a Rolling Stone magazine writer, the album is an important moment in the career of an important singer. By applying a masterful maturity to brilliant material, [Jarreau] has extended his reach and deepened his expression. His vocal performances are nothing short of astounding.
Jarreau continues to tour extensively throughout the world, and he is a Literacy Champion national spokesperson for the Verizon Reads program. Throughout his stellar career, Jarreau has remained a staunch supporter and an ambassador for the University of Iowa and is truly one of the most distinguished of the universitys alumni.