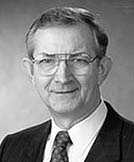 R. William Van Sant
66BSME, 67MS
Achievement 1999
---
William Van Sant, 66BSME, 67MS, chairman and chief executive officer of Lukens Inc. and a nationally recognized business leader, is widely respected for his ability to build shareholder value for some of America's most respected companies.
An Iowa Falls native, Van Sant launched his career at Deere & Company in Waterloo, and throughout his professional life, he has been appointed to senior management positions in industries that form the foundation of the nation's economy—manufacturing, construction, metals, and aerospace/defense. In addition to his responsibilities at Lukens, he has held executive posts at Deere, Cessna Aircraft, and Blount Inc.
Van Sant joined Lukens in 1991 as president and chief operating officer, amidst a 116-day strike at the company's headquarters. Through his leadership, an innovative contract settlement was achieved that offered job security in return for productivity gains and profit sharing. After his appointment as Lukens's chairman and chief executive officer in late 1991, Van Sant initiated the purchase of Washington Steel Corporation, a leading stainless steel producer. This $275 million acquisition allowed Lukens to enter the growing specialty steel market. In addition, the Lukens chairman implemented a $350 million capital program to integrate the company's manufacturing systems, and he launched a sweeping Total Quality Leadership process throughout the corporation. In 1995, Lukens's steel sales exceeded $1 billion.
Today, Lukens competes internationally as a Fortune 500 company and the nation's third-largest producer of plate steel. Lukens Inc. was acquired by the Bethlehem Steel Corporation in 1998. Since that time, Van Sant has worked as a senior advisor to a number of equity firms.
Van Sant has devoted his time and talents to benefit industry, as well as other professional and civic organizations. A director of Amcast Industries, he holds directorships at the National Association of Manufacturers, the American Iron and Steel Institute, the Manufacturers Alliance, the Specialty Steel Institute of North America, and the Coatesville Area Partners for Progress.
Van Sant has also remained loyal to his Iowa roots through his memberships on the UI College of Engineering Development Council and its advisory board, and he has contributed to several UI Foundation projects.
Van Sant is a member of the UI Alumni Association's Old Capitol Club.