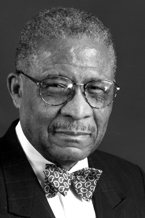 Horace G. Dawson, Jr.
---
Horace G. Dawson, Jr., has blazed a trail for minorities and members of other under-represented groups to follow through his distinguished career in international affairs, diplomacy, and higher education.
Born in Augusta, Georgia, Dawson earned a B.A. degree in English from Lincoln University in Pennsylvania in 1949, followed by an M.A. degree in English and Comparative Literature from Columbia University in New York in 1950. He taught English and journalism at Southern University in Baton Rouge, Louisiana, and at North Carolina College (now University) in Durham, North Carolina, before completing a Ph.D. in journalism and mass communications at the University of Iowa in 1961.
The next year, Edward R. Murrow recruited Dawson to become one of the first African Americans to join the United States Information Agency (USIA) in the Kennedy administration. He started his Foreign Service career as a cultural affairs officer in Uganda (1962-63) and Nigeria (1965-67), and then became public affairs director in Liberia (1967-70). Eventually, he rose to the position of USIA area director for Africa, overseeing all U.S. information and cultural programs in that region.
In 1976, Dawson became counselor of embassy for public affairs in the Philippines. Three years later, he returned to Africa, when President Jimmy Carter named him U.S. Ambassador to the Republic of Botswana. In this role, Dawson helped strengthen relations between the U.S. and Botswana during that nation's rise as one of Africa's most stable, wealthy, and democratic nations.
He also assisted in diplomatic activities leading to the independence of Zimbabwe, and the end of apartheid and ultimately the independence of South Africa. In recognition of his distinctive contributions to America's diplomatic service, Dawson received two superior honor awards.
In 1983, Dawson returned to the U.S., where he held key positions in the Department of State and the USIA until retiring from diplomatic service in 1989. The day after he retired, Dawson accepted an offer to join the faculty at Howard University in Washington, DC. As director of the Patricia Roberts Harris Public Affairs Program, he shared his experience and connections in diplomatic service with students and colleagues. A proposal he crafted won a $3 million grant from the W.K. Kellogg Foundation to establish the International Affairs Center at Howard, with Dawson as founding director.
Later renamed in honor of a Nobel Peace Laureate, the Ralph J. Bunche International Affairs Center has flourished under Dawson's leadership, increasing awareness of and facilitating entry into the diplomatic services for African Americans and other under-represented minorities. In 2001, Dawson headed the U.S. delegation to Sweden for the Stockholm International Forum on Combating Intolerance.
Throughout his career, Dawson has volunteered his time and expertise to mentor and inspire others. One of many notable students he influenced is former Secretary of State Condoleezza Rice, whom he helped to secure an internship in the State Department in 1977. In her remarks at a State Department event last year, Rice said of Dawson, "We can all look back in our lives and recognize moments when somebody not only believed in us, but pushed us and prodded us to do something that we might not otherwise have done."
The University of Iowa is proud to honor Horace Dawson, who has not only distinguished himself and the UI through his stellar career, but has also paved the way for others to follow in his footsteps.
Dawson is a life member of the University of Iowa Alumni Association.