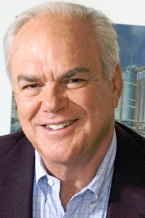 Daniel E. McLean
---
Daniel E. McLean has dedicated his career to the development, construction, and revitalization of key neighborhoods in Chicago, including some of the city's most blighted areas.
After receiving a degree in finance from the UI in 1970, McLean founded MCL Companies in Chicago in 1976. In the early 1980s, he found himself a step ahead of the development mainstream when he noted that many Baby Boomers had begun seeking upscale housing in urban environments. His company quickly achieved success by meeting the demands of this burgeoning group of customers.
Not satisfied with distinguishing himself as one of the most prominent developers in Chicago, McLean employed his vision, leadership, and charitable spirit to transform and revitalize entire neighborhoods, developing appealing and affordable housing that has led to significant improvement in the aesthetics and quality of life in these areas.
MCL has developed numerous parts of Chicago, from Old Town and Lincoln Park on the north side to Dearborn Park and Central Station on the south. At Cabrini Green, the notorious public housing project, the challenges inherent in public housing issues inspired McLean's humanitarian spirit. He worked with a team of advisors to conceive a plan that became a national model for addressing public housing issues going into the 21st century.
The company's most current and largest project is the River East Neighborhood, a 13-acre, $1 billion development located north of the Chicago River and east of Michigan Avenue, which will include residences, retail establishments, restaurants, and hotels. Farther afield, MCL is transforming key urban areas in New York City, Denver, Charlotte, Atlanta, and Boston.
In addition to his professional endeavors, McLean's commitment to the community is evident through his active support of some of Chicago's most prominent and influential institutions including the Steppenwolf Theater Company and Columbia College Chicago.
Throughout his successful career, McLean has received many awards for his accomplishments, including recognition as Chicago Developer of the Year; the Civic Federation's Lyman Cage Award for individual civic achievement; the Professional Builder Award for urban revitalization; the Sammy Award for advertising; the MIRM Award for sales and marketing; the Illinois Institute of Technology Community Recognition Award for community redevelopment, and the Friends of Downtown Award for the best new building. In 2000, Success Magazine named him Entrepreneur of the Year.
McLean has also remained dedicated to the University of Iowawhere his daughter, Tessa, is currently a senior majoring in journalismand where he has generously established the Daniel E. McLean chair in the Henry B. Tippie College of Business to help ensure that future generations of UI graduates are able to pursue their passions and make a difference in the world.
A successful businessman who has never lost sight of what is truly important in life, Daniel McLean truly deserves this Distinguished Alumni Award in recognition of his vision, determination, and compassion.
McLean is a member of the UI Alumni Association and the UI Foundation's Presidents Club.