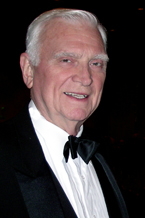 Robert D. Sparks
55BA, 57MD
Achievement 2009
---
Robert D. Sparks has led an exceptional, far-reaching career of service and leadership in academic medicine, education, public health, and philanthropy.
Born in Newton, Sparks received a B.A. from the University of Iowa in 1955 and an M.D. in 1957, and he completed a residency and fellowship at the Tulane University School of Medicine in internal medicine and gastroenterology in 1962.
The UI alumnus noted for his genuine and unpretentious nature began his career in the academic field. From 1958 to 1972, he held faculty and administrative positions at Tulane, and served as dean of the Tulane University School of Medicine from 1969 to 1972. In that year, he became the Chancellor of the University of Nebraska Medical Center and Vice President of the University of Nebraska, positions he held until 1976.
In the next phase of Sparks' career, he joined the W. K. Kellogg Foundation in 1976, progressing from program director, to vice president for programming, to president and trustee. In this role, he successfully channeled assets toward worthy causes and helped to guide some great medical centers toward their goals.
From 1985 to 1989, Sparks served on President Reagan's board of advisors on private sector initiatives. In 1986, he was elected to membership in the Institute of Medicine (IOM) of the National Academy of Sciences. Sparks was chairman of the IOM Committee to Evaluate Treatment of Alcohol Problems when it issued its report to the U.S. Congress in April 1990. In 1995, he became president and CEO of the California Medical Association Foundation, until he retired from active employment in 1998. He now serves as Chairperson of the Board of Directors of the TASER Foundation for Fallen Law Enforcement Officers.
Throughout his thriving career, Sparks has retained a strong commitment to the University of Iowa. In 1998, he was one of the first two recipients of the UI Carver College of Medicine's newly established Distinguished Alumni Awards. He has received numerous other national and international awards and honors for his support of medical education, research, and service and philanthropy.
Sparks continues to have a significant impact at the UI Carver College of Medicine as a philanthropic leader. He and Dr. Bob Whinery led a campaign to establish the Class of 1957 Endowment Fund, an effort that raised more than $100,000, the first such class fund for the College. In 2007, he established the Robert D. Sparks History, Culture, and Ethics of Medicine Endowment Fund, which each year awards the Robert D. Sparks Essay Prize to a medical student who best explores a timely issue in medicine using historical, ethical, and cultural perspectives.
As an active member of UI Foundation campaign steering committees for the Seeking Knowledge for Healing campaign and Good. Better. Best. Iowa campaign, he and other committee members helped raise more than $250 million. His efforts helped the Carver College of Medicine build the state-of-the-art Medical Education and Research Facility and increase scholarship support for deserving students. Not only did Sparks volunteer his time to help lead the campaign, he was also one of the major contributors; a conference room in the Medical Education and Research Facility bears his name.
While Robert Sparks' impressive leadership in all aspects of his profession has earned him international accolades, he has continued to make his alma mater a priority, for which the university—and future generations of UI students—will long be grateful.
Sparks is a member of the UI Alumni Association's Old Capitol Club and the UI Foundation's Presidents Club.