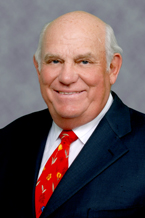 Lawrence D. Dorr
---
Lawrence "Larry" D. Dorr commands the respect of his peers as a leading orthopaedic physician, academician, and researcher, but his spirit of service has earned him the gratitude of thousands of people in underdeveloped countries.
After completing an undergraduate degree in English at Cornell College in Mount Vernon in 1963, followed by a master's degree in 1965 and a medical degree in 1967 at the University of Iowa, the native Iowan went on to become a leader in the field of orthopaedic surgery. Dorr is respected throughout his profession for his diagnostic insight and excellent research, which he has used to help design artificial joints that enable patients to once again lead active and pain-free lives. His most recent research involving a robotic program for precise placement of joint components promises to further advance this area of medicine.
Today, Dorr practices in California and is director of the Dorr Arthritis Institute. It's indicative of his standing among his peers that he is the only person to have been president of all three U.S. joint replacement societies.
Although his professional achievements are outstanding, Dorr's accomplishments in serving the underprivileged are perhaps even more compelling. In 1994, Dorr established a nonprofit volunteer program, Operation Walk, to provide medical treatment and training in developing countries. Since then, he and his staff have treated more than 2,500 patients in countries including Cuba, Nepal, China, the Philippines, Nicaragua, and Peru. Not only do patients receive much-needed hip and knee replacement surgeries, but local doctors, nurses, physical therapists, and families benefit from the education to continue providing treatment.
In addition to taking the program abroad, Dorr has brought Operation Walk to Los Angeles to help uninsured patients. In the last four years, the program has also expanded to other locations in the U.S., Canada, and Great Britain. Such efforts earned Dorr the American Academy of Orthopaedic Surgeons' Humanitarian of the Year award in 2005 and the UI Carver College of Medicine Distinguished Alumni Award in 2006.
Dorr credits his Iowa upbringing and education for much of his success. The state's renowned work ethic and sense of community shaped his outlook, while Des Moines public schools and Cornell College—where he later founded Dimensions, a pre-medicine program to prepare students to practice both the art and science of healing—gave him a foundation for continued learning. He is particularly proud of his medical education at Iowa and of the master's degree he earned here in pharmacology, which taught him the fundamentals of scientific research.
Showing further dedication and service to education and to the University of Iowa, Dorr created an endowed chair in specialized orthopaedics research in the UI Carver College of Medicine to support top physicians and scientists in pioneering new hip reconstruction techniques. He also supported a separate endowment called the John and Kim Callaghan Chair in Sports Medicine, to help advance vital research, education, and patient care activities in the area of sports medicine, and he continues to advise UI physicians on the future of orthopaedics.
For selflessly helping so many in need, and for embodying the Iowa qualities of accomplishment, compassion, and generosity, Larry Dorr richly deserves to be recognized with this Distinguished Alumni Award for service.
Dorr is a life member of the UI Alumni Association and a member of the UI Foundation's Presidents Club.