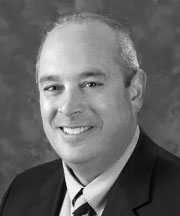 Gerard P. Clancy
83BA, 88MD
Achievement 2011
---
Gerard P. Clancy, 83BA, 88MD, applies his medical expertise and leadership to transform health care—not just for individual patients but for entire communities.
After completing a B.A. degree in biochemistry and a research fellowship in molecular biology at the University of Iowa, Clancy earned his medical degree in 1988. Following in the footsteps of his late father, John Clancy, a psychiatry professor at the UI for 35 years, he became a resident at the University of Iowa Hospitals and Clinics.
By 1991, Clancy was chief resident in general psychiatry at UIHC. From 1992 to 1995, he served in the U.S. Air Force, rising to the rank of major and head of the Division of Medicine at Ellsworth Air Force Hospital in South Dakota, before returning to the UI. A visit to an Iowa City homeless shelter, where many clients suffered from mental illnesses, sparked a desire to help—as well as the realization that such patients required a new approach. He initiated several innovative, multidisciplinary programs—"hospitals without walls"—that took medical services out into the community.
Such efforts continued throughout his rapidly progressing career (which included graduation in 1997 from the Harvard Executive Program in Health Care Policy and Management), earning him a reputation not just as an accomplished physician but as a champion for the underserved. In 2001, Clancy was named dean of the medical college at the University of Oklahoma. Then, in 2006, he also became president of the University of Oklahoma, Tulsa. An energetic, hands-on leader, he still makes time to teach students and to work with them one evening a week at a clinic that serves the disadvantaged.
In 2008, with a $50 million donation from the George Kaiser Family Foundation, Clancy led a successful effort to transform medical education at the school. The OU College of Medicine in Tulsa became the University of Oklahoma School of Community Medicine. The first of its kind in the U.S., the school focuses on directing the university's many resources—clinical services, medical education programs, research, financial support, and leadership—to improve the health status of all Oklahomans, particularly those in underserved rural and urban populations.
Driven by appalling statistics demonstrating severe healthcare inequities—such as estimates that poorer residents of north Tulsa typically live 14 years less than those in the southern area of the city—Clancy hopes to find solutions to such problems. In 2009, Clancy convened the first National Summit of Urban Health, and he also offered his expertise during the recent overhaul of the American healthcare system.
For such efforts, Clancy has received numerous awards, including the Excellence in Community Psychiatry Award and the Exemplary Psychiatrist Award from the National Alliance on Mental Illness. The UI College of Medicine honored him several times as an outstanding instructor and in 2005 bestowed upon him a Distinguished Alumni Award for Early Achievement. In 2004, the Oklahoma Medical Association presented him with its Community Service Award, and in 2009, Tulsa People magazine named him Tulsan of the Year.
Through his work at the community, state, and national level, Gerard P. Clancy has demonstrated his devotion to patients and his fidelity to the humane ideals of academic medicine.
Clancy is an annual member of the UI Alumni Association.