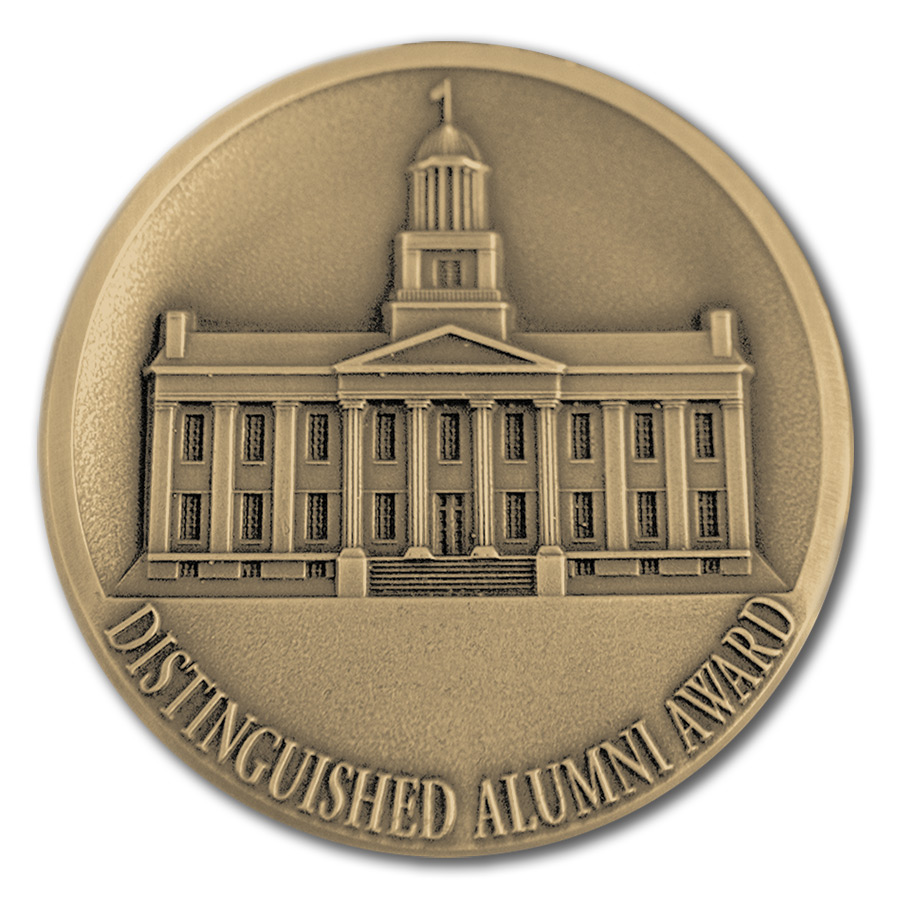 Merle B. Kessler (Duck's Breath Mystery Theatre)
73MFA, 74MFA
Service 1988
---
Ducks Breath Mystery Theatre has been quacking up audiences for more than a decade. The Ducks' outrageous comedy troupe—William D. Allard (75MFA), Daniel J. Coffey (75MFA), Merle B. Dessler (73MFA, 74MFA), Leon C. Martell (75MFA), Jim Turner (former UI student), and Steven W. Baker (72BA)—was hatched in 1975, while several of the group were students in the UI's theatre arts and writing programs. Many Iowa Citians still recall the early days when the Ducks were perfecting irreverent sketches, like Gonad the Barbarian, in front of raucous crowds in student nightspots.
That was before Duck's Breath caught scent of the West Coast entertainment industry's bucks for yuks and promptly migrated to present headquarters in San Francisco as their growing list of stage, radio, television, and film credits indicates, California has been good to Iowa City's funnies expatriates.
Bill Allard—best known as the polyester-clad Mr. Nifty—has produced both Cinemax comedy specials and the Duck's Breath series for Viacom Cablevision. Along with producing radio and television spots through his advertising agency, Duck Spots, Allard teaches advanced acting at San Francisco State University. The director in numerous productions of fellow Ducks' plays, Allard directed cohort Kessler's play Table for One to rave reviews in New York City last fall. Now, Allard's planning to direct his first feature film, "Ticket to Paradise."
Then there's Dan Coffey's Dr. Science, a mad mix of Carl Sagan, Frankenstein, and Robert Ripley. Believe it or not, on Saturday morning's "Dr. Science," Coffey has been telling kids that the secret of gravity is Elmer's Glue All and that dinosaurs became extinct because of their whining, gimme attitude and poor posture. This campaign to misinform America's youth began when he and Kessler created "Ask Dr. Science" on public radio in San Francisco in 1982. Two years later, the show began airing on American Public Radio stations and a public television special, "Dr. Science's Official National Science Test," ensued. Today, hip science demands familiarity with Coffey's and Kessler's definitive test, The Official Dr. Science Big Book of Science.
Merle Kessler is in the same bind as Coffeya fine writer at the mercy of his comic creation, Ian Shoales. A sneering social critic of Yuppiedom, Shoales considers it his calling "to say 'no' in a nation that says 'yes' to every bad idea that comes down the pike." His snide commentaries on National Public Radio's "All things Considered" bechuckled Ted Koppel, so he became a frequent guest commentator on "Nightline." Shoales also appears weekly on Duck's Breath Homemade Radio series and even has a novel, Perfect World, due out this summer.
Kessler's Table for One, Coffey's Mark of the Beast, and Leon Martell's highly acclaimed Hoss Drawin' exhibit the superb play righting talent the Ducks can muster. Several Ducks' plays have been produced in theatres around the country and at national play festivals. Kessler has written for network specials featuring Jay Leno and David Frost, and Martell authored the screenplay for the upcoming feature film, Ticket to Paradise.
Leon Martell was a featured actor in the hit film short Porklips Now, recently appeared in the film Made in Heaven, and played the lead in The Marriage of Bette and Boo, for the Arizona Repertory Theatre company. His array of characters—from the manic security guard Zeke on the Dr. Science TV series to the mercurial Congo Bob of Duck's Breath state performances—demonstrates his versatility as an actor.
Jim Turner is another longtime Duck's Breath stage favorite. Praise for his one-man show, The Brain That Wouldn't Go Away, and proliferating film appearances—The Right Stuff, Porklips Now, Grunt: The Wrestling Movie, and Lost Boys—have groomed Turner for inevitable stardom. But the real catapult appears to be his Music Television character, Randee of the Redwoodsa lost-in-the-ozone remnant of the 60s trying to deal with perspectives of the 80s. Randee's music video, "Either Way Is fine With Me," was an MTV pleaser, and his off-again, on-again presidential candidacy has at least troubled Paulsen and Stassen.
Holding all this craziness together is a general manager Steve Baker. Keeping the Ducks in queue, arranging shows and tours, producing their daily 90-second spots for their "Homemade radio" series, and marketing books, records, and paraphernalia has become the lifework of this former UI student government activist. As former editor-in-chief for the Daily Iowan during an award-winning year, Baker, too, has a way with words. He once deadpanned that Duck's Breath is just a T-shirt company that does comedy on the side.