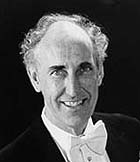 Eugene Rousseau
---
Eugene Rousseau, 62PhD, one of the great saxophonists of the world, received his PhD from the University of Iowa, where his principal teacher and mentor was Himie Voxman.
Rousseau is Distinguished Professor of Music at Indiana University, where he also served as chair of the woodwind department for a number of years. A juror at the Munich International Competitions on several occasions, he chaired the 1991 oboe jury and the 1992 clarinet jury; and in 1997, he served as a juror for the Japan Wind and Percussion Competition. A guest professor at numerous institutions, including the Paris Conservatory, Arizona State University, and the Hochschule for Musik in Vienna, Rousseau was designated an honorary faculty member of the Prague Conservatory in 1993. His numerous students hold major teaching positions in this country and abroad.
Rousseau gave the first solo saxophone recitals in Paris, Berlin, Vienna, London, and Amsterdam. He has given a yearly master course at the prestigious Mozarteum in Salzburg since 1991, and he has premiered numerous works written for him, including those of Juan Orrego-Salas, Jindrich Feld, Bernhard Heiden, Frederick Fox, and Don Freund. For more than 25 years, Rousseau has served as Yamaha Corporation's chief consultant for saxophone research, contributing to the development of acoustic improvements in saxophones and mouthpieces.
Rousseau has appeared as soloist with the Minnesota Orchestra, the Pan-American Festival Orchestra, the Indianapolis Symphony, the BBC Orchestra, the Janácek Philharmonic, the Kansai Philharmonic, the Santiago Philharmonic, the Austrian Radio Orchestra, and the Bavarian Radio Orchestra. He has presented classical recitals and master classes throughout the world on a variety of topics related to his instrument. His solo performances include appearances with the US Army Band at Kennedy Center, the Budapest Strings in Hungary, and the Tokyo Bach Band, as well as with the Hamamatsu International Wind Instrument Festival. Rousseau's wide-ranging discography includes solo albums for Deutsche Grammophon, Delos, Liscio, Crystal, and RIAX, and collaborations with Frederick Fennell, David Baker, the Gerald Danovitch Quartet, the Budapest Strings, and the Haydn Trio of Vienna.
Rousseau cofounded the World Saxophone Congress in 1969 and has served as president of both the North American Saxophone Alliance and the Comité International du Saxophone. He has published a number of arrangements, scholarly works, and method books, many of which have been translated into French, German, and Japanese. In 1995, he was awarded the Edwin Franko Goldman Memorial Citation by the American Bandmasters Association.
Rousseau is a life member of the UI Alumni Association.