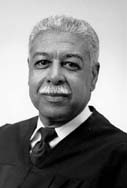 H. Randolph Moore, Jr.
---
H. Randolph Moore, 61BA, 62MBA, 65PhD, 57LLB, a recently retired Superior Court judge for the state of California, is widely respected for his extraordinary contributions to the Los Angeles County juvenile court system.
After graduating from the UI, Moore returned to Los Angeles, where he worked as a prosecutor in the city attorney's office and then in private practice. For nearly ten years he served as a Superior Court commissioner, and in 1977, he was appointed to the Los Angeles Municipal Court. In 1980, Moore was elevated to the Superior Court, where he remained until his retirement in 1997. A faculty member at the National College of Juvenile Justice on the campus of the University of Nevada-Reno, Moore sits on assignment in the courts of California and teaches a summer class at the University of Missouri School of Law.
Throughout his judicial career, Moore personified a firm yet thoughtful judge. He promulgated several programs that continue to operate today in Los Angles County, including the Juvenile Alternative Work Program (JAWS), which promotes discipline and work ethic in youths, and an Arraignment, Report, Adjudication, and Disposition (ARAD) process that was recognized nationally in 1984.
Through his membership on the South Central Advisory Committee, Moore helped instigate a series of programs addressing issues such as gang violence, restitution, psychological assessment and counseling, youth services bureaus, and job training programs. Collaborating with the California National Guard, the Los Angeles Conservation Corps, and the Century Freeway Project, Moore also worked actively to secure meaningful employment for youths.
A three-time recipient of Judge of the Year honors, Moore was also honored in 1991 with the building and dedication of the H.R. Moore, Jr. Learning Center and Community Education Center in Los Angeles. Built with funds he obtained from the County Department of Education, the center is located across the street from the courthouse where Moore is assigned.
In response to Moore's recent retirement from the bench, a colleague wrote, "Your retirement truly marks the end of an extraordinary era in the history of the Los Angeles County Juvenile Court. No judge has been more dedicated to realizing the goals of the juvenile justice system than you have been. No judge has shaped it as singularly as you have. No judge has been its personification as much as you have been. And no judge has given as much to the cause of juvenile justice and contributed as much to the well-being of the youth of this country as you have."