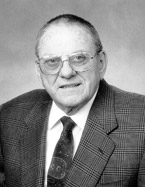 Joseph B. Summers
---
Joseph B. Summers, 48BSCE, has influenced irrigation and water conservation in California and throughout the world during more than 53 years in his chosen fields of agricultural and civil engineering.
For nearly four decades, the California-based Summers Engineering firm has provided consulting services for irrigation and drainage projects around the globe. Summers' company has completed a number of prestigious assignments for urban water supply agencies and irrigation districts, and he himself has served as a United Nations consultant on irrigation and drainage in Argentina's Pampas region. In addition, Summers was the U.S. Committee on Irrigation and Drainage national chair for meetings on toxic substances in agricultural water supplies, and in 1981 he was a U.S. representative at the 11th Congress of the International Commission on Irrigation and Drainage.
Though Summers interrupted his studies to serve as a B-24 bombardier in Europe during World War II, the Ardon, Iowa, native finished his UI degree in civil engineering and went to work as a hydraulic engineer for the United States Bureau of Reclamation in Denver, Colorado. He earned a master's degree in civil engineering from Colorado University in 1951.
Summers' fascination with civil engineering goes way back. Raised in rural Ardon, Summers helped on his family's 160-acre farm. Trains rolling through his father's railroad station also piqued his early interest in engineering.
This lifetime of experience is the reason so many people in parched districts turn to Summers for assistance. He was chair of an oversight committee that took on one of the largest, most complex water conservation negotiations in U.S. history. The committee crafted a $100-million agreement between Southern California's Metropolitan Water District-which supplies water to the Los Angeles area-and the Imperial Irrigation District just north of the boundary line of Mexico.
Summers also finds time to tend his own land, using cultivation techniques on his 210-acre walnut farm that prompted a grower's cooperative trade magazine to dub him "Water Master." Summers' other accolades include the inaugural Merriam Improved Irrigation Award from the U.S. Committee on Irrigation and Drainage and a 2001 induction into the UI College of Engineering's Distinguished Engineering Alumni Academy.
A member of the UI College of Engineering Advisory Board, he established the Joseph and Rose Summers Scholarship in Civil Engineering and also made a major gift to build an interactive electronic classroom for the college. He recently established the Joseph and Rose Summers Endowed Chair in Engineering.
This "water master" who has had such a profound effect on global water preservation also will have a lasting impact on future generations of UI engineers.
Summers is a life member of the UI Alumni Association and a member of the UI Foundation's Presidents Club.