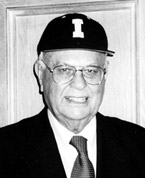 Roy G. Karro
---
Roy G. Karro, 42BA, arrived at the University of Iowa from New York City in 1939, with barely enough resources to cover the $85 out-of-state tuition. Sixty years later, the loyal Hawkeye made the largest single contribution ever in support of UI Intercollegiate Athletics-$3 million to fund the new Roy G. Karro Hall of Fame and Visitors Center.
This commitment is just one of numerous gifts Karro has made to his alma mater. He has contributed to the UI every year since 1956, when the University of Iowa Foundation began.
The son of immigrants, Karro started out as an undergraduate student at the City College of New York, working on Wall Street. He transferred to Iowa and, during his journey to Iowa City, ended up riding part of the way on a train with heavyweight boxing champion Joe Louis.
The year Karro began at Iowa as a sociology major, Nile Kinnick and the Ironmen were playing in a 1939 football season that would make them one of the most famous teams in UI history-and Karro saw it all from the stands. This might explain the UI graduate's tremendous Hawkeye spirit, which prompted him to invest in the Karro Hall of Fame and Visitors Center-a building that will pay tribute to Iowa athletes from different eras and programs.
Karro also has generously supported athletes and coaches by donating $50,000 to the Hayden Fry Scholarship Fund-awarded annually to an offensive and defensive football captain-and commissioning a bronze bust of retired UI football coach Hayden Fry. In addition, Karro established the Jim Zabel Scholarship Fund for communication students majoring in broadcast journalism.
After earning his degree from the UI, Karro served in the U.S. Air Force for three years during World War II. Soon after, he joined the Southfield, Michigan, investment firm of Salomon Smith Barney, moving up the ranks to vice president, a position he held until his retirement in 1999.
Even from his home in Michigan, Karro finds plenty of ways to stay in touch with the UI. In 1999, he was named an honorary letter winner, though he never played sports at Iowa. He also is a Kinnick Society member, a 1942 Liberal Arts Class Gift Committee member, a former Regional Alumni Telefund caller, and a member of the Iowa Endowment 2000 National Committee.
Though it's been many years since Karro first stepped off the train, checked in to the Jefferson Hotel, and began his future at the University of Iowa, he has used his outstanding generosity to keep happy black and gold memories alive for himself and countless other Hawkeye fans.
Karro is a life member of the UI Alumni Association and a UI Foundation Presidents Club Gold member.