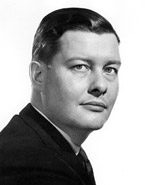 Jerome R. Feniger, Jr.
---
Jerome "Jerry" Feniger, 48BA, went from introducing big band leaders to University of Iowa students to introducing broadcast advertising to the world. After spending his entire career at the forefront of the communications and broadcast industry, Feniger has given back generously to the university that gave him a voice in broadcasting.
Feniger found this voice at Iowa, where, as a communications and theatre arts major, he participated in several University Theatre productions. The young entertainment lover also hosted Rhythm Rambles, a WSUI radio program that gave him the opportunity to emcee dances and meet big band leaders such as Tex Beneke, Woody Herman, and Claude Thornhill.
Feniger transformed his early entertainment interest into a lengthy and fruitful career that began with his first job as an account executive and advertising time buyer for the Biow Company in New York. Many lucrative positions followed. He was a chief time buyer for Cunningham and Walsh in New York City, a sales executive for CBS, and, as an executive of Cowles Communications, he helped the organization expand into broadcast media. From 1965 to 1970, Feniger was vice president of Grey Advertising, Inc.
In 1970, Feniger founded and became president of Horizons Communications, Inc., which owned and operated eight radio and television stations throughout the country. He is managing director of the Station Representatives Association, Inc., past president of the International Radio and Television Society, past chair of the International Radio and Television Foundation, and a member of the founding group of the Museum of Television and Radio.
Throughout these numerous leadership roles, Feniger continues to use his communication skills to connect with others. He serves as the senior director of the Advertising Council and has been deeply involved in assisting various philanthropic organizations with their public service advertising campaigns. He also has been instrumental in helping Iowa alumni find professional success on the East Coast.
Though Feniger did graduate work at Columbia University and New York University, and eventually earned an honorary doctorate from St. John's University, his Iowa affinity remains strong. Actively involved in all of the Iowa alumni gatherings in the New York City area, he is also a former national committee member for the Iowa Endowment 2000 Campaign.
In addition, Feniger has provided generous financial resources for the UI, particularly through the endowed Jerome and Marian Feniger Fellowship in Communication Studies, which offers financial aid to needy and deserving majors who plan to pursue careers in broadcasting.
It seems fitting that a student who made the most of his educational experience to become a broadcasting pioneer is now giving other UI students the chance to do the same.
Feniger is a life member of the UI Alumni Association and a member of the UI Foundation's Presidents Club.