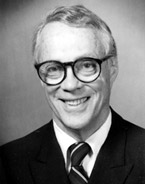 Gwilym S. Lodwick
42BA, 43MD, 50R
Achievement 2002
---
Gwilym S. Lodwick, 42BA, 43MD, 50R, a professor emeritus and former chair in the University of Missouri School of Medicine's Department of Radiology, has been a trailblazer in the field of radiology, willing to chart the unknown in hopes of bettering humanity.
The young Lodwick began this incredible journey by leaving his hometown of Mystic, Iowa, for the University of Iowa. He completed a bachelor's degree in zoology and a medical degree, before World War II interrupted his university career.
In 1943, Lodwick entered the U.s. Army as a first lieutenant in the 95th Medical Gas Treatment Battalion, serving through the Battle of France, the Battle of Ardennes, and the Battle of Germany. Afterwards, Lodwick treated prisoners from the infamous Bergen-Belsen concentration camp and scavenged German medical equipment to organize a much-needed radiographic field facility.
When his armed services assignment ended, Lodwick returned to complete a medical residency in the University of Iowa Department of Radiology-which in 1970 honored him with its Most Distinguished Alumnus Award during the UI College of Medicine's centennial celebration.
Lodwick earned this distinction through years of hard work and research at prestigious academic institutions around the globe. During his career, Lodwick's various academic appointments included deanships, directorships, and chairmanships. He also served as a visiting professor in departments of radiology at the University of Turku in Finland, the Keio University School of Medicine in Japan, and Harvard Medical School-where he continues to be a regular lecturer on bone tumors and determination of growth.
These are not Lodwick's only areas of expertise. In 1975, he received a Nobel Prize nomination for his groundbreaking work in image modeling and the computer diagnosis of bone tumors. His other major research interests have included skeletal radiology, medical decision-making, radiology information systems, radiology image management systems, and automated image analysis.
He has outlined many of his research findings in the numerous books, chapters, articles, and papers he has published throughout his career. In addition, Lodwick has been a member of several editorial boards and illustrious medical societies. He is a senior member of the Institute of Medicine of the National Academy of Sciences and was a founding member of the International Skeletal Society.
To help ensure that students have access to the same excellent medical education that laid the foundation for his own career, Lodwick established the Dr. Gwilym Lodwick and Maria Antonia Lodwick Medical Scholarship at the UI and the Dr. Gwilym S. Lodwick and Maria Antonia Lodwick Distinguished Professorship in Radiology at the University of Missouri-Columbia.
Though Lodwick's many accomplishments have brought him international recognition and acclaim, he has never forgotten that his work is about helping others rather than earning distinctions.
Lodwick is a life member of the UI Alumni Association and a member of the UI Foundation's Presidents Club.