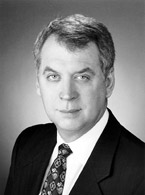 Thomas C. Dolan
---
Thomas C. Dolan, 77PhD, the president and chief executive officer of the American College of Healthcare Executives (ACHE), has spent his professional career working to ensure excellence in health management education. Whether serving in academia or guiding national professional organizations, Dolan has devoted his time and energy to championing causes that have challenged, but ultimately improved, the healthcare field.
He has brought his own integrity to bear on this process, continually emphasizing that values and ethics must drive healthcare leadership. In his position as president of ACHE-a preeminent professional association of healthcare executives comprising nearly 30,000 members-Dolan actively promotes the value of board certification in healthcare management. ACHE's two credentials, FACHE and CHE, which mandate that practicing executives complete formalized, lifelong-learning requirements, are considered the pinnacle of excellence in the healthcare management field.
Dolan also was influential in founding the Institute for Diversity in Health Management, an organization that plays a pivotal role in increasing the number of ethnic minorities in health services administration. Dolan is the current chair of the Institute.
This Chicago native began his career at the UI, serving from 1970 to 1972 as a research assistant and instructor in the graduate program in Hospital and Health Administration. A visiting fellowship at the Department of Health Services in the University of Washington's School of Public Health and Community Medicine followed.
In 1974, Dolan became assistant professor and director of graduate studies in the Section of Health Services Management at the University of Missouri-Columbia. From 1979 to 1986, he was associate professor and founding director of the Center for Health Services Education and Research at Saint Louis University. He left academia in 1986 to join ACHE.
Dolan has always made volunteer work a top priority. His service on national boards and organizations has included chairing the Association of University Programs in Health Administration, the American Society of Association Executives Foundation, and the Association Forum of Chicagoland. He served as president of the Mental Health Association in both Boone County and Missouri, and on the board of trustees of Alexian Brothers Hospital in Saint Louis.
Dolan also has found time to author and coauthor a large number of journal articles, columns, and professional papers, many of which he has presented at various healthcare conferences across the country.
Despite these varied demands on his time, Dolan has been an active and enthusiastic supporter of his alma mater, serving in the UI College of Public Health's alumni association and providing ongoing consultation and support to graduate students and faculty.
Though healthcare has dramatically evolved since Dolan was a University of Iowa graduate student, his commitment to integrity in the midst of change has remained the same.
Dolan is a life member of the UI Alumni Association.