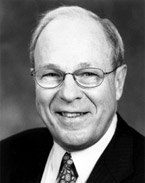 Richard R. Albrecht
58BA, 61JD
Achievement 2002
---
Richard R. Albrecht, 58BA, 61JD, has achieved personal and professional success that took him from a small Iowa farm to prestigious law offices with international significance. However, Albrecht has never forgotten the values instilled by his family and his origins in a small Iowa community. They shaped his global achievements in law and government, guiding him through a role as general counsel for the United States Department of the Treasury, a 22-year tenure at the Boeing Company, and a lengthy partnership in the Pacific Northwest's largest law firm.
Albrecht's Iowa upbringing and education served him well throughout this varied career. The Hartley, Iowa, native completed a UI chemistry degree in 1958 and a UI law degree in 1961. During law school, he served as editor-in-chief for the prestigious Iowa Law Review, honing his legal expertise and leadership skills.
This experience helped prepare Albrecht for his first law position at the Seattle, Washington, firm of Holman, Mickelwait, Marion, Black & Perkins (now known as Perkins Coie), where he became a partner in 1968.
During the early days of Albrecht's busy career, he still found time to perform volunteer public service at the state and local levels, serving on the boards of a number of community and nonprofit organizations. The Seattle-King County Municipal League recognized his achievements with its 1969 Outstanding Citizen of the Year award. Albrecht also served as a member (1970-74) and chair (1972-74) of the Washington State Council of Higher Education.
A career move in 1974 took him to Washington, DC, as general counsel of the United States Department of the Treasury, where he earned the Alexander Hamilton award for outstanding service. Returning to Seattle in 1976, he became general counsel and secretary of the Boeing Company. As a member of Boeing's senior management, Albrecht concluded his career there as executive vice-president, with responsibility for all commercial relations with customers of the Commercial Airplane Group. Following his retirement from Boeing, Albrecht returned to Perkins Coie as counsel.
He has continued to serve his community in many capacities, including 20 years as a board member and four years as chair of a large regional medical center, and 12 years as a Regent of Washington State University. Not having forgotten the University of Iowa's educational mission, he is a member of the College of Law Dean's Club, and he served on the Iowa Endowment 2000 National Campaign Committee.
Richard Albrecht's outstanding accomplishments-in everything from serving in high-level government, to guiding a global corporation, to volunteering for higher education and health care-place him in a premier group of Iowa graduates who have tirelessly dedicated their lives to service and leadership.
Albrecht is a life member of the UI Alumni Association and a member of the UI Foundation's Presidents Club.