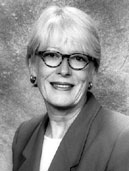 Doris J. Biester
---
Doris J. Biester, 63BSN, has distinguished herself as a pioneer in pediatric health care. The president and chief executive officer of the Children's Hospital of Denver, she is the first nurse and woman to serve the institution as its CEO. Biester is also the first nurse CEO to hold the position of chair of board of trustees for the National Association of Children's Hospitals and Related Institutions.
Biester's interest in helping others came to her early in life, when she chose to enroll in the University of Iowa College of Nursing. After completing her degree, she worked in several positions at the University of Iowa Hospitals and Clinics, where she demonstrated her exceptional leadership skills. She served from 1963 to 1965 as a pediatrics staff nurse, and from 1969 to 1972 as head nurse in the pediatric nursery and special care clinic and as a clinical nursing specialist and administrator in pediatrics.
From Iowa, she took a position as assistant director of pediatric and obstetric nursing at the Women and Infants Hospital of Rhode Island, then went on to The Children's Hospital in Denver, Colorado, where she has made a long career of influencing the world of children's health. She began as senior vice president, director of nursing, and continued up the ranks to become chief operating officer in 1995, before achieving her current role as president and CEO of the hospital in 1998.
The key to her success includes both excellent judgment and strong interpersonal skills. When the University of Colorado Health Sciences Center moved its department of pediatrics into the Children's Hospital in 1990, she helped oversee the challenge. Biester worked thoughtfully to explore the best approach and help bring the two boards to agreement, keeping as her guiding principle at all times the question, "What is best for the children?" Not only did her efforts result in a smooth transition, she was instrumental in ultimately raising the position of the hospital to the number four ranking in the nation given by U.S. News & World Report.
Biester is known as a visionary who combines commitment with strategic, thoughtful action, and in so doing, inspires and motivates others. She has made a mark on the nursing profession with her innovative ideas, including finding ways to increase nurse retention rates, establishing an all-registered nurse staff for direct patient care, and establishing the baccalaureate nursing degree for entry into practice as a means of enhancing quality of care.
Biester inspires others by sharing her work as an educator, as the author or co-author of numerous professional papers, and as a presenter at key professional conferences across the country.
Among the many boards on which she has served, Biester currently works with the Children's Miracle Network and has spent many hours participating in fundraisers for children at the hospital. She is known for her consistently cheerful and upbeat demeanor.
For Biester, improving the quality of life for many children is a worthwhile goal for her own life's work.
Biester is a member of the UI Alumni Association's Old Capitol Club.