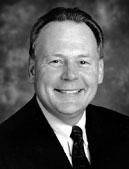 James Bramson
76BS, 79DDS
Achievement 2003
---
James Bramson, 76BS, 79DDS, has had a significant impact on the quality of dental care and education in the United States and the world through his role as executive director of the 150,000-member American Dental Association (ADA). In the words of one of his fellow professionals, "When Dr. Bramson speaks, the world of dentistry listens."
At the University of Iowa, Bramson was an exceptional undergraduate and graduate student in the College of Dentistry, where he won first place in the University of Iowa Table Clinics in 1977. He began his professional life by running a small, successful, general dental practice in Parkersburg and Ackley, where he served those Iowa communities for seven years.
Receiving the prestigious Hillenbrand Fellowship from the ADA in 1986 presented a critical turning point in his career. During his internship with the ADA in Chicago, he received practical experience in various aspects of dental administration and began developing the interest and expertise in national policy that has determined his professional path.
After his yearlong fellowship expired, Bramson was hired permanently by the ADA and took on increasingly responsible positions, serving as associate director of the council on dental practice, secretary/treasurer for the ADA Emergency Fund and the ADA Endowment and Assistance Fund, and director of the Commission on Relief Fund Activities. From 1990 to 1997, he was director of the ADA Council on Dental Practice.
By this time, Bramson's work had begun to attract national attention, and he was selected as executive director for the Massachusetts Dental Society, where he served from 1997 to 2001.
Bramson's subsequent appointment to the position of executive director of the ADA in 2001 represents a meteoric rise that stands as testimony to his singular dedication to the dentistry profession. His work has helped shape procedures and policy for nearly every major issue in this field. Throughout his career, Bramson has been appreciated for his ability to tackle tough issues while demonstrating a good Midwesterner sensibility and community spirit.
Despite his busy schedule, Bramson has found time to give back to the community in numerous ways, including as a member of the Parkersburg Iowa Rotary Club, the Parkersburg Lions Club, and the Parkersburg Chamber of Commerce, and as a coach for district youth baseball in Wheaton, Illinois.
Bramson remains committed both professionally and personally to the state of Iowa and the UI. He received the President's Award from the Iowa Dental Association (IDA) and served for four years in the Iowa Dental Association's House of Delegates.
Proud of his Iowa roots, Bramson often mentions Iowa and the UI College of Dentistry in his many appearances around the country. Although he currently lives in Chicago, Bramson still considers himself an Iowan-and the UIAA is proud to recognize him as an exemplary one.