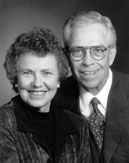 Joann Slager Hanson
---
Jim Hanson, 58BSC, and Joann Slager Hanson, 56BA, met at the University of Iowa as undergraduate students and have maintained their Iowa ties since Joann finished her B.A. in education and Jim finished his B.S.C. in marketing. Since they married in 1957, they have been indefatigable leaders, volunteers, and contributors to a wide variety of UI projects and programs.
Jim's marketing degree served him well when he became president and CEO of Hanson Watson Howe, an advertising agency founded by his father in Moline, Illinois. Joann enjoyed teaching cooking at Scott Community College-in 1981 a book of her recipes was published by Magic Chef-and raising their two sons.
The two have remained in Jim's hometown of Moline (Joann was born in Williamsburg, Iowa, and grew up in Iowa City), and have followed closely in the footsteps of Jim's parents, Clement and Sylvia, who also met at the university-and were tireless Iowa champions. Jim's mother, Sylvia, often told him that "giving is a healthy thing to do," and Jim and Joann have taken that advice to heart.
The Hansons have dedicated numerous hours to various UI boards and campaigns. A member of the UI Foundation board of directors since 1992, Jim has served on the executive committee and as chair of the audit committee. Joann served on the Alumni Association board of directors from 1989 through 1992. They both were members of the Iowa Endowment 2000 Campaign national committee and also served as volunteers on Hawkeye athletics campaigns.
In addition, Jim and Joann have made significant contributions to the UI, providing a major leadership gift in 1995 to name a room within the Levitt Center for University Advancement and establishing the James C. and Joann Slager Hanson Scholarship Fund in 2000.
The Hansons have been longtime supporters of numerous other UI programs, including WSUI/KSUI, the School of Art and Art History, the Tippie College of Business, Old Capitol, and the Iowa Impact Fund.
The couple's generosity extends far beyond the bounds of the UI community. Jim has served as a director of the Moline Public Library, the Moline Education Foundation, and the Moline Public School Foundation, worked as the personnel manager for the Tri-City Symphony Orchestra, and volunteered for the Ronald McDonald House. He was also chairman of the Moline YMCA and of Trinity Medical Center and Trinity Regional Health System in Moline/Rock Island.
Joann participated in Moline's Bedside Tutoring program, where she tutored sick children for 12 years. She is past president of Junior Symphony Board of the Quad Cities, a former secretary of the Junior Service League of Moline, and a member of the PEO women's organization. She is also an active alumna of Alpha Chi Omega, of which she has been a member for 50 years.
The Hansons have touched the lives of many, and they are truly exemplary in their dedicated service to the university and the community.
The Hansons are members of the UI Foundation's Presidents Club and members of the UIAA's Old Capitol Club.