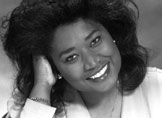 Michele M. Crider
---
Michële M. Crider showed such promise as a graduate voice student in the University of Iowa School of Music from 1986 to 1988 that Simon Estes, 86BM, recommended she interrupt her degree studies to join the Zurich Opera Studio. Today, Crider is considered one of the leading sopranos of the Italian opera repertoire, singing in all of the major opera houses in Europe and appearing in highly acclaimed performances in the United States.
From the time Crider came to the UI, her professors recognized her exceptional talent. She performed leading roles in a succession of operas, and her vocal and acting abilities raised the popularity of University Opera to new heights. She first came to the attention of Simon Estes when she performed with him at the Governor of Iowa's Homecoming Benefit in 1987.
The next year, Crider was a finalist in the Luciano Pavarotti competition, and in 1989 she won one of the three first-prizes in the Geneva International Music Competition. The latter prize included a chance to sing the role of Leonora in Il Trovatore in Germany and an opportunity to compete for the International Grand Prize, which she went on to win.
Since 1991, Crider has showcased her remarkable talent in the major houses throughout Europe, including the Royal Opera House Covent Garden, Arena di Verona, Vienna, Munich, Hamburg, Stuttgart, Deutsche and Staatsoper Berlin, Wiesbaden, La Scala Milan, Florence, Zurich, St. Gallen, and Barcelona.
Crider made her American debut in San Diego in 1996 in a new production of Aida, followed this with a San Francisco performance in the same role, and then performed at the Metropolitan Opera in New York as Madama Butterfly. She has since returned to San Francisco, New York, and other U.S. opera houses where her performances have been well received by critics and the public.
Although she currently makes her home in Switzerland, Crider readily acknowledges her roots and exudes the Midwestern values of humility, graciousness, and appreciation for the support of people who have known her since the early days of her career. She's never forgotten that a group of Iowa City opera fans organized a fundraiser to help her attend the prestigious Zurich Opera Studio in Switzerland.
When Crider returned in the fall of 2002 to give a recital on the Hancher stage-the first performance at the UI she has been able to fit into her demanding schedule since the 1980s-her enthusiastic audience included Iowa City fans who have known her and followed her exceptional career since she was a student here. Crider also generously shared her skills and experiences with several UI students at a master class.
Crider has never forgotten the encouragement and support she received from her UI teachers and fans. She takes pride in her Iowa education, and the first sentence of her professional biography reads, "Michèle Crider studied voice at the University of Iowa in America."