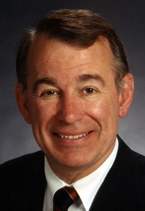 Greg Ganske
---
Greg Ganske, 72BA, 76MD, possesses an exceptional record as a reconstructive surgeon, but his public service as a member of the U.S. House of Representatives is equally commendable and notable.
Born in New Hampton, Iowa, Ganske completed a B.A. degree in political science at the UI in 1972 and an M.D. degree from the UIs Carver College of Medicine in 1976. He continued his postdoctoral medical training at the University of Colorado Medical Center in Denver, Colorado, the University of Oregon Health Sciences Center in Portland, Oregon (from which he later received a distinguished alumni award), and Harvard Medical School, where he trained in plastic surgery.
For more than a decade, Ganske ran a highly successful practice as a reconstructive surgeon in Des Moines before reconnecting with his earlier passion for political science. In 1995, he successfully campaigned to become a member of the U.S. House of Representatives from Iowas Fourth District—identifying himself by campaigning throughout the state in a beige 1958 De Soto—and served the state in this position from 1994 to 2003. In 1999, Congressional Quarterly named him one of the 50 most effective members of Congress.
Ganskes change in career is both laudable and significant. As health issues continue to take greater prominence in our national life, it is becoming increasingly necessary for the voices of health experts to inform and advise policy-making.
As a representative, Ganske used his medical expertise to promote patients rights and to advance other aspects of healthcare reform. He cosponsored a bill to provide funding for health care and support services for those with the AIDS/HIV virus; he appeared with Vice President Al Gore in a Des Moines-area forum on Iowas growing methamphetamine problem; and he helped pass legislation to provide improved access to healthcare and prescription medication for the poor, the elderly, and for women.
The scope of his work went far beyond the field of health care; throughout his time as a lawmaker, Ganske tackled the nations most pressing issues—from the costs of higher education to renewable energy to the threat of bioterrorism—with unmistakable sincerity and dedication.
Ganske has received numerous awards and honors recognizing his efforts on behalf of many of the important constituencies he served during his distinguished career. These include a Friend of the Farmer Award from American Farm Bureau, a Citizens Against Government Wastes Taxpayers Hero Award, an Iowa Hospitals and Health Systems Coalition for Fairness in Medicare Award, a Leadership in Advocacy for Childrens Health Award from the National Association of Childrens Hospitals, and a United Seniors Associations Guardian of Medicare Award.
In 1997, the National Multiple Sclerosis Society named him its Representative of the Year, and a year later, the American Medical Association honored him with its prestigious Nathan Davis Award for outstanding government service. In 2003, Ganske returned to private practice as a reconstructive surgeon in Des Moines.
Through his dedicated and exemplary efforts as a physician and a lawmaker, Greg Ganske has brought distinction to the University of Iowa and earned the gratitude and respect of countless patients and citizens.
Ganske is a life member of the UI Alumni Association.