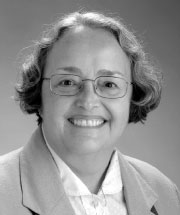 Carol E. Smith
---
Carol E. Smith, 72BSN, has reduced the enormous burden placed on families coping with severe illness through her groundbreaking work in the fields of home care and telehealth.
Smith received her B.S.N. from the University of Iowa's College of Nursing in 1972. She continued her nursing education at Wayne State (master's degree in nursing with specialization as a nurse practitioner, 1976) and the University of Minnesota (Ph.D. in nursing, 1982).
Currently a professor of nursing and preventative medicine and public health at the University of Kansas School of Nursing, Smith is a recognized leader in patient education and the innovative use of clinical intervention technology that guides caregivers via interactive websites and in-home telehealth. Over almost 30 years, and with some $14 million of funding from the National Institutes of Health, she has laid the foundation for improving the lives of caregivers nationwide both through her innovative, evidence-based research and her personal commitment to disseminating that knowledge.
Smith's breakthroughs have improved understanding of how to work with seriously ill patients at home to prevent infections, re-hospitalization, and depression. Just as importantly, her work has provided a lifeline for family caregivers who manage complex home care such as vascular catheters, ventilators, and heart failure.
Smith has published more than 180 peer-reviewed, data-based articles in national and international multidisciplinary journals, including Nursing Research, Nursing Economics, Advances in Nursing Science, Patient Education and Counseling, and Telemedicine and e-Health. An educational innovator, she has developed and taught Web-based university courses, consulted for the National Science Foundation on academic Web development, and published quality standards for Internet nursing degrees and patient education.
Thanks in part to Smith's research data, the Kansas legislature proposed and passed a bill supporting the use of televideo home services for rural elders. An infection prevention kit that she developed was used in a $5.5 million campaign in Kansas schools, public services, and restaurants; later, it was translated into six languages for medical missions in South America and Africa.
In addition to her own outstanding contributions to her field, Smith has helped nurture a new generation of researchers through dedicated mentoring of junior and post-doctoral nursing and medical faculty. Smith's influence is also felt far beyond the U.S. A senior Fulbright scholar, she has taught, conducted research, and acted as a doctoral examiner in countries including England, Finland, and Australia. Master's and doctoral students from various countries have also traveled to Kansas to work with her.
Based on such generous offerings of her time and knowledge, Smith has been recognized with many awards and honors. She has received the University of Kansas's Innovative Educator Award (1998), Chancellor's Teaching Award (2003), and Honorary Alumnus of the School of Nursing (2007). The ultimate accolade came last November when she was inducted into the Fellows of the American Academy of Nursing. This past May, she received an honorary doctor of medicine degree from the University of Turku, Finland, in recognition of her work there to teach medical students about clinical trials research.
Carol E. Smith has earned respect and recognition of the highest caliber from her peers, students, and patients. Through her unwavering commitment, leadership, and research, she has generated crucial new knowledge to improve the lives of the sick and their caregivers.