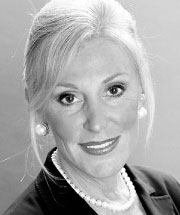 Janice Reals Ellig
---
Janice Reals Ellig, 68BBA, has tirelessly contributed her talents and resources as a successful business executive to mentor University of Iowa students and support her alma mater.
After graduating from the UI with a bachelor of business administration degree in 1968, Ellig earned her organizational development master of arts degree in 1978 from Rider University in Lawrenceville, New Jersey. From 1968 through 2000, she took on executive leadership roles at major companies such as Pfizer, Citibank, and Ambac Financial Group.
Since 2000, Ellig has served as co-CEO of Chadick Ellig, a premier global executive search firm. In this role, she has demonstrated a deep commitment to diversity by advocating for the recruitment of women and minority candidates into executive and board positions. As co-author of two business books and as the founder of the first Iowa Women's Leadership Conference—which she provided support for UI health management and policy students to attend—she has personally worked to advance women as leaders.
Despite living on the East Coast, Ellig keeps close ties with her alma mater, serving on the UI Foundation's executive committee and board of directors, as well as on various university boards. She generously gave her time and expertise to the UI College of Public Health building campaign committee, also setting a philanthropic example with a charitable gift to help provide a world-class academic home for the college.
Ellig also inspires students as a regular speaker at the Tippie College of Business and through a UI College of Public Health scholarship. In 1999, she launched the Adrienne Astolfi Eddins Memorial Scholarship Fund, awarded each fall to a female student in the Master of Health Administration program. Named in honor of Ellig's sister—a UI sociology graduate, healthcare executive, and student mentor—the scholarship has so far assisted 12 women in pursuit of advanced degrees in the Department of Health Management and Policy. Ellig has been proactive in meeting regularly with the selected students and will again this summer host ten of them in New York City to provide them with further networking opportunities.
With selfless service and unwavering support, Ellig has shown dedication to the UI as a past member of the Management and Organizations Advisory Council, as a contributor to the renovation of the President's residence at 102 Church Street, and as a welcoming host in her home of New York City receptions for UI alumni and friends.
Ellig also embodies the university's spirit of volunteerism, reaching out to her community through her involvement in numerous civic activities. Most notably, she is the immediate past chair of the YMCA of Greater New York Board of Directors—the first woman to hold that position in the organization's 155-year history—and currently serves as president of the New York Women's Forum, a group of 420 New York women of achievement.
Years after receiving her degree from Iowa, Janice Reals Ellig remains one of the University of Iowa's most steadfast and committed alumni, modeling the important role that graduates can continue to play as supporters and student mentors.
Ellig is a Directors' Club Honors Circle member of the UI Alumni Association and a member of the UI Foundation's Presidents Club.