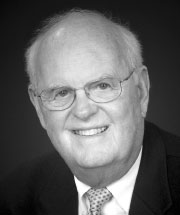 Robert W. Verhille
---
Robert W. "Bob" Verhille, 55BSC, has consistently blazed a trail for others to follow, both in his professional career and his volunteer efforts on behalf of the University of Iowa.
After graduating from the UI in 1955 with a business degree, Verhille followed his father into the insurance industry, establishing the Verhille and Associates agency in Cedar Rapids in 1956. After he built this business for more than 40 years, the agency was merged with two others in 2000 to create the TrueNorth Companies, and he continues to work as a specialist in this insurance and financial strategies firm in Cedar Rapids. During his long career, Verhille earned a reputation as a pioneer of the industry in Iowa.
For the longstanding leadership and vision he's displayed during his professional career, Verhille has received many accolades, including, in 1994, the National Association of Insurance and Financial Advisors' John Newton Russell Award, which is considered the highest honor in the life insurance and financial planning industry. In 2007, he was inducted into the Iowa Insurance Hall of Fame, and he has recently been inducted into the Eastern Iowa Business Hall of Fame.
Even while he served his profession so ably, Verhille devoted ample volunteer time and leadership to his community. Currently a trustee of Mercy Medical Center in Cedar Rapids, he has also served as chairman and director of the Cedar Rapids Area Chamber of Commerce and its economic development arm, PriorityOne; the board of trustees of Junior Achievement; the Regis High School Board of Education; and the Family Service Agency.
However, his passion for volunteering has been felt most keenly at his alma mater. Since 2007, when he took over as chair of the UI Foundation board of directors, Verhille has provided invaluable advice in helping the organization navigate through troubled economic times and budgetary challenges. Before his current position, he was vice chair of the foundation board for more than a decade, and he has served on the executive committee since 1995.
During the Flood of 2008 that wreaked havoc on the UI campus, Verhille offered his assistance to new President Sally Mason. "During the darkest and most challenging days, Bob was among those whose counsel I sought and most highly valued," recalls President Mason. "I came to rely on his insight, wisdom, and unfailing calm."
Verhille has also aided other university causes, including the historic Good. Better. Best. Iowa campaign, the current campaign for a new College of Public Health building, and the drive to help raise funds for the Old Capitol Museum. In addition, he has made charitable gifts to the university for more than four decades, starting with a donation of five dollars in 1962. Since then, many areas of the university have benefited from his generosity, particularly Hawkeye athletics and the College of Nursing (from where his late wife, Betty, graduated in 1958).
With the tireless service and dedication to others that he learned from his Iowa upbringing and his UI education, Robert W. "Bob" Verhille exemplifies in every way the spirit of giving back.
Verhille is a sustaining life member of the UI Alumni Association and a member of the UI Foundation's Presidents Club.