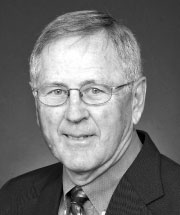 Thomas J. Lowenberg
62BSCE, 63MS
Hickerson 2011
---
Thomas J. Lowenberg, 62BSCE, 63MS, is an outstanding alumnus who shines as a model of engagement and leadership in advancing the University of Iowa.
Lowenberg began seeking ways to give back to his alma mater almost as soon as he graduated with a bachelor's (in 1962) and then a master's degree (in 1963) in civil and environmental engineering. He frequently appeared as a guest speaker offering UI students the benefit of his knowledge and experience as a successful engineer with the 3M Corporation in Saint Paul and then his own company, TLE, in Pine Springs, Minnesota.
Taking his volunteerism a step farther, Lowenberg became a highly active contributor and counselor as a member of the College of Engineering's advisory board, development council, and campaign committee. He played a significant role on the campaign committee in particular, helping the college attain an unprecedented $11 million-plus for the project to modernize the engineering building.
In 2002, the college nominated Lowenberg as its representative on the UI Alumni Association's board of directors. It was the start of a long, enjoyable, and productive partnership, during which time Lowenberg served as a member of the awards, finance, nominating, and strategic planning committees, followed by terms as chair-elect, chair, and past chair.
Taking his board responsibilities seriously, Lowenberg devoted himself to learning about the alumni association, forging positive working relationships with the staff, and offering astute observations and advice. Throughout his time on the board, he maintained a clear, focused, and ambitious vision that undoubtedly advanced the association, leaving it even stronger than when he arrived.
Lowenberg also demonstrates his commitment to the university through charitable giving. Now a member of the UI Foundation's Presidents Club, he has contributed to the university almost every year since his graduation. Furthermore, he chaired a special corporate matching giving program with 3M Corporation that raised more than $200,000 for the College of Engineering building campaign.
Friends and colleagues describe Lowenberg as a greatly admired mentor and peer, an effective organizer, and—above all—a genuine "people person" who's a delight to work alongside. They also respect him for embracing and excelling at one of the most important roles an alumnus can play—extolling the achievements of one's alma mater in a compelling and persuasive way. Says one of his friends, "Listening to Tom talk about the College of Engineering made even a non-engineer want to learn more about what was happening there."
Just like Loren Hickerson, the original alumni association director after whom this award is named, Thomas J. Lowenberg is a stellar ambassador and an ardent champion of the University of Iowa.
Lowenberg is a member of the UI Alumni Association's Directors' Club Honors Circle and the UI Foundation's Presidents Club.