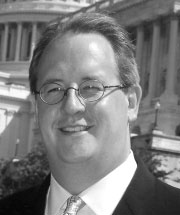 Jeffrey D. Kueter
---
Jeffrey D. Kueter, 93BA, is an applauded public policy analyst and faithful UI alumnus who successfully balances professional pursuits with an unwavering desire to give back to his alma mater.
After graduating from the University of Iowa with a bachelor of arts in political science and economics in 1993, Kueter launched his career as a research director/consultant for organizations that study science and technology policies and programs for the greater good, including the National Coalition for Advanced Manufacturing. He also continued his education with two master's of art degrees from George Washington University, most recently for political science in 2004.
Since 2002, Kueter has served as president of the George C. Marshall Institute in Washington, DC—a nonprofit corporation that conducts technical assessments of scientific issues that impact public policy—where he is a leading national expert in the ever-evolving and intersecting worlds of energy, the environment, space exploration, and national security. In addition to managing the institute's daily tasks, his hectic schedule often includes testifying before Congress or being interviewed by national media to provide policymakers with clear and accurate information on the crucial scientific matters of the day. Kueter is also a published author of many substantive pieces on issues of importance in the science and technology fields.
Yet, this accomplished alumnus always finds time for the UI. Since graduation, Kueter has stood as an ambassador to the UI political science department, contributing time and resources as an inaugural member of the political science advisory board, student mentor, and generous donor. But perhaps his most notable achievements have come through his distinguished service on the UI Alumni Association's board of directors and as president of the Capital Area IOWA Club of Washington, DC. With a natural ability to lead and inspire, Kueter served on the UIAA board from 2002 to 2009, including one year as chairman. The first-ever recipient of the IOWA Club Leader of the Year Award, Kueter helped cultivate the strong member participation and quality programming that has earned his group Best Club designation every year since 1999.
Above all this, Kueter's deep commitment extends to the promotion and growth of IOWA Clubs across the U.S. In that spirit, he spent significant effort working to formalize a legally binding IOWA Club structure that keeps this invaluable network of UI-affiliated groups functioning at an optimal level. Kueter's impressive record of club leadership is unmatched, and his boundless energy and dedicated service will no doubt impact the UI and UIAA for years to come.
Says William O'Keefe, chief executive officer of the Marshall Institute: "Jeff has a first-class, analytical mind, as well as outstanding personal characteristics' moral character, integrity, and a friendly manner. He is a devoted father and husband and has a deep affection for the university. Indeed, I am sure that if cut, he would bleed black and gold."
Proud alumnus, talented professional, and loyal alumni leader, Jeff Kueter epitomizes what it means to pursue a rewarding, lifelong relationship with the University of Iowa.
Kueter is a member of the UI Alumni Association's Old Capitol Club.