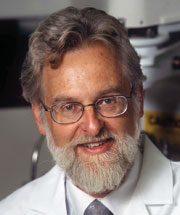 John C. Herr
---
John C. Herr, 78PhD, is a preeminent scientist whose research on contraception, related reproductive technologies, and cancer biomarkers has global implications.
A professor of cell biology, urology, and biomedical engineering—and director of the Center for Research in Contraceptive and Reproductive Health—at the University of Virginia (UVa), Herr combines his talents as a basic biomedical scientist, translational researcher, inventor, and entrepreneur to promote findings and innovations arising from the characterization of novel human genes and proteins expressed in the ovary and testis during the development of oocytes (sperm and eggs).
Before accepting an appointment at the University of Virginia in 1981, Herr received a bachelor's degree in biology from Grinnell College and a doctoral degree in anatomy and cell biology from the University of Iowa. He also completed a postdoctoral degree in developmental biology at the University of Washington in Seattle in 1981.
Throughout his notable career, Herr has focused his research on the areas of fertilization, contraception, and cancer. Translating discoveries into inventions is a hallmark of his work; while at UVa, he identified a unique sperm-specific protein (SP-10) that resulted in the creation of the first patented home-immunodiagnostic tests for male fertility. To commercialize SpermCheck Fertility and SpermCheck Vasectomy and ensure these tests reached the public, Herr founded the biotech company ContraVac in 1998 and took the reins as its president, CEO, and chairman. Herr's laboratory has also discovered a protein that could be used to develop biologic drugs for ovarian and uterine cancers.
Author of 210 scientific papers, inventor of more than 20 patents, and recipient of 30 years of continuous funding from the National Institutes of Health, Herr recently received the Bill and Melinda Gates Foundation Grand Challenge Award to develop a new concept for a female contraceptive that targets only the egg. He's also received funding from the Found Animal Foundation to help him aim for the $25 million Michelson Prize for developing a single-dose sterilant for dogs and cats. And his lab is currently working on a male contraceptive that targets testis-specific kinase proteins.
The self-described "farm kid from Iowa' is both a local and global research leader. Herr currently serves on the board of directors for the University of Virginia Patents Foundation and was elected president of the American Society of Reproductive Immunology. Additionally, he is a member of the INDO-U.S. Joint Working Group—a consortium of scientists and government officials whose primary goal is to facilitate scientific exchange and development in India—and director of an NIH-funded postdoctoral program that supports the advanced training of Indian scientists working in the fields of reproduction and contraception.
Further, Herr was named Inventor of the Year at University of Virginia in 1999, and he also received the Small Business Innovation Research Commercialization Breakthrough Award from the Virginia Center for Innovation Technology in 2004, a Breakthrough Award from the Charlottesville Business Innovation Council in 2010, and a Distinguished Alumni Award for Achievement from the University of Iowa Roy J. and Lucille A. Carver College of Medicine in 2002—to name just a few.
Thanks to his first-rate research, scientific vision, and zest for practical applications, John C. Herr deservedly ranks among the country's most remarkable scientists.