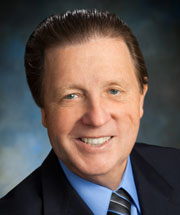 Randall L. Gray
---
Randall L. Gray, 72BS, 75MA, is a steadfast advocate for people with disabilities, and someone who has brought compassion and understanding to his work as a national leader in rehabilitation and education.
A proud parent of a son with autism, Gray has drawn from his personal experiences to guide his decisions as president and chief executive officer of Marc Center, an Arizona-based rehabilitation agency and national model for excellence that annually serves more than 8,000 individuals throughout the state.
Gray's passion for championing children and adults with disabilities first took hold at Iowa. During his years at the UI, he received a bachelor's degree in psychology and a master's degree in rehabilitation while fulfilling a practicum experience at Goodwill Industries.
After graduation, Gray worked as a state rehabilitation counselor for the Arizona Department of Economic Security/Rehabilitation Services Administration and as an assistant instructor at Mesa Community College before becoming a residential group-home manager in 1976. He began working at Marc Center as a service coordinator that same year and spent the next three decades working his way to the organization's top management position.
At every turn, Gray demonstrated an unwavering commitment to protecting the rights of people with disabilities, and he has established innovative programs, educated the public, and campaigned for national policy changes to advance important and needed services.
Among his trailblazing contributions, he established one of the first integrated preschools in Arizona that served both typically developing children and those with disabilities—and he also created one of the first regionally and federally supported employment initiatives in the late 1970s. Gray is also a past chair of the Arizona Governor's Council on Developmental Disabilities and a 20-year member—and chair—of the Arizona Rehabilitation Advisory Committee.
In addition, he has served for 20 years as a peer reviewer of federal grants that pertain to education, rehabilitation, and demonstration-research projects for the U.S. Department of Education and has advised more than 300 organizations, including Fortune 500 businesses. Gray also has testified before Congress on disability-related issues and led several national planning bodies and advocacy groups.
In 1992, Gray was selected as one of 20 Mary Switzer Scholars who would work to identify 21st-century initiatives for community rehabilitation programs. Also that year, the National Rehabilitation Association presented him with the Bell Greve Memorial Award in recognition of outstanding contributions. His many other accolades include a Distinguished Alumni Award from the University of Iowa Graduate Programs in Rehabilitation in 1999 and a 2006 Chairman's Award from the Arizona Association of Providers for People with Disabilities.
One of his colleagues, in summing up Gray's achievements, wrote, "Sir Wilfred Grenfell was quoted as saying, 'Real joy comes not from ease or riches or the praise of me, but from doing something worthwhile.' He must have known Randy."
Randall L. Gray has spent a professional lifetime "doing something worthwhile." His commitment to the rehabilitation and quality of life for people with disabilities has had a far-reaching effect on countless individuals.