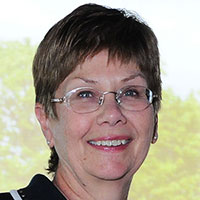 Diane Magrane
74BA, 78MD
Achievement 2015
---
Diane Magrane, 74BA, 78MD, a renowned visionary in women's health and academic medicine, has nurtured hundreds of women leaders to take the reins in academic health sciences and engineering.
A proud graduate of the University of Iowa who earned a bachelor's degree in zoology in 1974, and a doctorate of medicine in 1978, Magrane began her career fostering the next generation of physician leaders and scholars as an undergraduate education coordinator at the St. Louis University School of Medicine. In 1986, she joined the University of Vermont College of Medicine, where she designed an integrated medical education program that encourages students to help shape the future of health care. Says Harvard Macy Institute Director and long time collaborator Elizabeth Armstrong, "Her creative work resulted in one of the country's most innovative curricula addressing the needs of the students and patients in ways that were setting new standards for health care education."
"I was an 18-year-old aspiring poet when I arrived and a 26-year-old physician when I left."
A leader in obstetrics and gynecology, Magrane has made an enormous impact on the advancement of women in medicine. From 2004 to 2009, she revamped many women's leadership programs and became founder of an online professional development publication for medical faculty as a director at the Association of American Medical Colleges in Washington, DC.
Magrane now serves as executive director of the International Center for Executive Leadership in Academics at Drexel University in Philadelphia. Home to the country's premier women's leadership programs, the center celebrated the 20th anniversary last year of its award-winning Executive Leadership in Academic Medicine offering. In 2013, Magrane launched a similar program for the advancement of women leaders in the underrepresented fields of science and engineering, earning a national Women in Engineering Initiative Award for Executive Leadership in Academic Technology and Engineering (ELATE) at Drexel from the Women in Engineering ProActive Network.
Magrane's influence on the future of medical education extends to the international level. In 2001, she became president of the American Professors of Gynecology and Obstetrics (APGO), setting national guidelines for undergraduate medical education in women's health. Magrane also built the women's health and rights curriculum for the International Federation of Obstetrics and Gynecology, improving the education and clinical care among health care providers. In 2006, APGO recognized her transformative leadership in medical education with a Wyeth Career Achievement Award.
Magrane credits the UI's rich liberal arts education for nurturing her passion for learning. "I was an 18-year-old aspiring poet when I arrived and a 26-year-old physician when I left," says Magrane, who has since served on the UI Carver College of Medicine Dean's Alumni Advisory Council. The college recognized her in 2002 with its Distinguished Alumna Award for Achievement. "Do your homework. Be clear on your goals. Deliver on what you promise. Some would say this last phrase is basic Midwestern work ethic. It works all over the world to garner respect and engagement."
An authentic leader, Diane Magrane has improved medical education and leadership on a global level and remains a strong advocate for women in science.
Magrane is a life member of the UI Alumni Association.
Career Highlights
St. Louis University School of Medicine, 1982-85
University of Vermont College of Medicine, Burlington, Vermont, 1986-2004
Fletcher Allen Health Care, Burlington, Vermont, 1986-2004
Association of American Medical Colleges, Washington, DC, 2004-09
Drexel University College of Medicine, Philadelphia, 2008-present