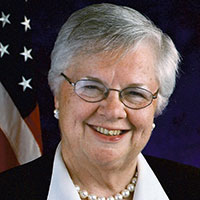 Mary Kramer
---
Mary Kramer, 57BA, 72MA, is a former state senator and U.S. ambassador who has served the University of Iowa, the state, and the nation with an unmistakable commitment to the common good.
A lifelong Iowan from Burlington, Kramer met her husband of 57 years, Kay, while both were music students at the University of Iowa. She graduated from Iowa with a bachelor's in music in 1959 and a master's in elementary education in 1972.
Before embarking on a distinguished 13-year political career, Kramer spent two decades as a teacher and school administrator and more than 20 years in the corporate world, including as the first female vice president of human resources and community investments at Wellmark Blue Cross and Blue Shield.
"If I think I can make a difference, it's hard for me to say no. I have failed retirement many times."
From 1990 to 2003, Kramer represented Clive, West Des Moines, and Des Moines as a Republican in the Iowa State Senate. Dedicated to improving education, economic development, and health care in the state, she became the first independently elected female president of the chamber. Kramer also served as assistant minority leader, chairman of the board for the Senate President's Forum, and on the board of directors for the State Legislative Leaders Foundation.
During her time in politics, Kramer led by example and carved a path for women in leadership. "She's been a mentor and role model for countless individuals, and her leadership has been sought by many organizations," says former Iowa State Senator JoAnn Johnson. "Mary had the sense for doing the 'right' thing for the 'right' reason and she imparted that to all of us."
For her service, Kramer has been recognized with the highest national honor from the Society for Human Resource Management and earned acceptance into the Iowa Women's Hall of Fame. Kramer's leadership was recognized on the national scene in 2002, when President George W. Bush appointed her as chairperson of the White House Commission for Presidential Scholars. From 2004 to 2006, she also served as U.S. Ambassador to Barbados and the Eastern Caribbean, which she writes about in her book, More than a Walk on the Beach: Confessions of an Unlikely Diplomat.
Kramer now acts as owner and president of Kramer and Associates, speaking to groups about leadership and civility in public discourse. She continues her volunteer service, including as a member of the organizing committee for the "Good. Better. Best. Iowa!" campaign that raised more than $1 billion for the University of Iowa, and she currently serves on the search committee for the UI's new president. Says Kramer, "If I think I can make a difference, it's hard for me to say no. I have failed retirement many times."
As a dynamic servant leader, Mary Kramer continues to inspire many to follow her lifelong example of public service.
Kramer is a member of the UI Alumni Association's Old Capitol Club and the UI Foundation's Presidents Club.
Involvement
Des Moines Performing Arts
Greater Des Moines Chamber of Commerce
Iowa Public Radio
Iowa Public Television Foundation
Mercy Medical Center in Des Moines
Polk County Child Care Resource Center
Rotary Club International
United Way of Central Iowa