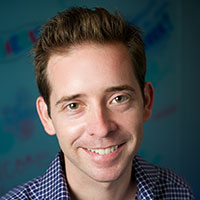 Matt Tucker
---
Bill Lynch, 00BS, and Matt Tucker, 00BS, are the successful founders of Jive Software, a start-up that went public in 2011 at a value of $900 million and now boasts a client roster that includes some of the top corporations in America.
The Lynch and Tucker story began at the University of Iowa, where the partners showed early enthusiasm for software development and first conceived of their idea. While they worked toward their computer science degrees, the two displayed a level of innovative spirit and entrepreneurial ambition that distinguished them from their peers—many of whom took jobs at established tech giants instead of creating their own endeavors.
"...it's really the culture we built and the positive work environment we created. I heard from many people that Jive was the best job they ever had."
"Bill and Matt's ability to take skills acquired in the classroom and develop them through their extracurricular participation is a blueprint for today's students," notes Alberto Maria Segre, professor and chair of the UI Department of Computer Science. "[They] were well aware that they were not only competing with peer companies in the marketplace, but also giants of the industry. The mettle displayed by two native Iowa Citians in the early days of Jive is what made the company great."
With a clear vision, brilliant programming skills, and a knack for business, Lynch and Tucker poised themselves to provide an enterprise platform that would allow teams within large corporations—with projects in many locations—to communicate in an efficient, productive way. Jive products do just this, improving the back-and-forth necessary among businesses, employees, and customers to strengthen workplace performance.
Lynch began as the company's vice president of engineering and Tucker as chief technology officer, launching their venture in 2001 with many long days in their downtown Iowa City office. Computer hardware and software corporation Sun Microsystems was among the startup's first clients; today, those customers include household names like NIKE, T-Mobile USA, and DIRECTV.
The co-founders eventually left Iowa City to establish Jive on the West Coast. In 2010, Tucker moved the headquarters to Palo Alto, while Lynch oversaw the Portland, Oregon office. In 2013, Lynch transitioned from a product management role to that of Jive advisor and a mentor to Portland's start-up community, lending his experience to the next generation of entrepreneurs. Tucker remains responsible for the long-term strategic development of Jive products.
Lynch and Tucker are thousands of miles and more than a decade into Jive's journey, but they still call on the diverse education, skills, and self-confidence they gained at the UI.
"It's tempting to say that the inception of the company or the public offering were my most proud moments," says Lynch. "However, it's really the culture we built and the positive work environment we created. I heard from many people that Jive was the best job they ever had."
Bill Lynch and Matt Tucker are exemplars of the kind of self-motivated thinkers the University of Iowa hopes to produce—and they've demonstrated that education and enterprise can make dreams come true.
Career Highlights
Restarted the UI's student chapter of the Association of Computing Machinery
Developed a special reading course to master the contents of a book titled Design Patterns: Elements of Reusable Object-Oriented Software with Steven Bruell, professor emeritus of computer science
Former board member of the OpenSocial and XMPP Standards foundations