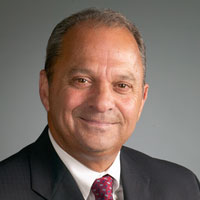 Albert Ruffalo
---
Albert Ruffalo, 75MA, a pioneering entrepreneur with a head for business and a heart for service, has created a Cedar Rapids-based company that stands at the forefront of fundraising and enrollment management solutions.
The first-generation college graduate, who holds an accounting degree from Loras College and a master's degree in education administration from the University of Iowa, got his professional start as a teacher and assistant principal. In 1984, however, he moved into the field of telecommunications, becoming president of McLeodUSA Direct in Cedar Rapids and demonstrating savvy business management skills.
Ruffalo applied this business acumen in 1991 to the task of building his own company, RuffaloCODY, in Cedar Rapids. This spark of an idea quickly grew into a game-changer in the world of technology-enabled fundraising and enrollment management services and software. Such accomplishments earned Ruffalo a 1993 nomination as Midwest Entrepreneur of the Year and a 1994 Midwest Emerging Entrepreneur Award from Inc. magazine.
"Managing a classroom or managing teachers is no different than managing a big organization. My background in education taught me how to manage with compassion."
Today, under Ruffalo's expert guidance, the company provides services to more than 3,000 colleges, universities, and nonprofit clients throughout the globe. Though he sold RuffaloCODY to McLeodUSA in 1996, Ruffalo repurchased the company in 2001. Under his visionary direction, it grew more than 250 percent between 2006 and 2012, and, in 2013, Ruffalo stepped into the role of executive chairman. In 2014, RuffaloCODY merged with Noel-Levitz to become Ruffalo Noel Levitz. It's now one of the fastest-growing private companies in the nation—as well as one of the largest employers in Cedar Rapids.
"Al Ruffalo has spearheaded the evolution of one of the country's most progressive business success stories," says Timothy Charles, president and CEO of Mercy Medical Center, who knows Ruffalo through his contributions as a Mercy Medical Center trustee—one of many philanthropic roles that the civic-minded businessman plays.
Ruffalo also volunteers with Big Brothers Big Sisters of America, Junior Achievement, and Theatre Cedar Rapids. He served as a director of the Economic Development Center and a regent emeritus of Loras College. In addition, Ruffalo was at the forefront of efforts to help Cedar Rapids recover from the flood of 2008; he announced an Adopt-a-Business program that helped the owners of some of the hardest-hit downtown businesses get back on their feet.
A devoted Iowa alumnus, Ruffalo believes in "paying it forward" to the institution that taught him so much. He attributes his career success to his experiences in the UI College of Education, where he currently serves on its first advisory board. "I learned how to think creatively and how to manage," he says. "Managing a classroom or managing teachers is no different than managing a big organization. My background in education taught me how to manage with compassion."
With a focus on passion, results, integrity, dedication, and entrepreneurial
spirit—tenets he shared with his colleagues at RuffaloCODY—Albert Ruffalo has proven himself to be a true leader and mentor in the fields of higher education and nonprofit engagement.
Ruffalo is a member of the UI Alumni Association's Old Capitol Club and the UI Foundation's Presidents Club.