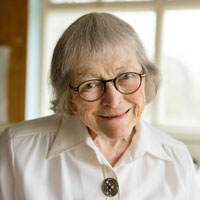 Virginia A. Myers
---
Virginia A. Myers was a gentle teacher and renowned printmaker who blazed new trails in the world of the fine arts and whose invention of the Iowa Foil Printer elevated the reputation of the UI School of Art and Art History among programs of its kind.
Myers' 50-year UI career began in 1962 when she became an instructor in Iowa's printmaking department—the only woman teaching studio courses at the time. Prior to that, she earned a B.A. degree in drawing and painting in 1949 from the Corcoran School of Art in Washington, D.C. After completing graduate and postgraduate studies at California College of the Arts and Crafts and the University of Illinois, Myers came to Iowa City in 1955 to collaborate with distinguished printmaker Mauricio Lasansky. During that time, she also spent a year in Paris on a Fulbright Scholarship, studying at Atelier 17 with printmaker Stanley William Hayter.
UI graduate Nancy Schneider Hanson, 61BA, who turned to Myers for valuable advice and guidance during her undergraduate years, says, "Virginia taught us all what it means to follow your passion. Her story of arriving in Iowa City by herself, on a train, without a job, with no place to live, and with very little money—in hopes of studying with Mauricio Lasansky, whom she'd never met—is testament to her dedication."
"Virginia taught us all what it means to follow your passion."
With her creation of the Iowa Foil Printer in the 1980s, Myers became one of the nation's preeminent artists in foil imaging. The printer allowed her to combine foil stamping with traditional printmaking methods—a technique that once had been available only through commercial foil stampers. She then patented the equipment with Dan Wenman, a local machinist, and Jim Phillips, an electrical engineer.
Besides being a groundbreaking inventor, Myers also was an exceptional teacher and scholar. She became a full professor at Iowa in 1982, and her class in hot foil stamping that began in 1990 was the first of its kind ever taught in a school of fine arts. She published two books about this process, presented more than 100 solo shows throughout the world, and participated in numerous group exhibits.
Myers' work is featured in the collections of the San Francisco Art Museum, the Nelson-Atkins Museum in Kansas City, the Toledo Museum of Art, the National Collection of Women's Art, the Muscatine Art Gallery, and the Des Moines Art Center. In addition, she served as a member of the board of directors for the Elizabeth Foundation for the Arts in New York City.
Though Myers retired in 2012 at the age of 84, she continued working on a third book, Changing Light: A New Visual Language, and on a five-panel art installation, A Codex of Our Times, which she completed in 2014 and considered her greatest artistic achievement.
In 2015, the UI created the Virginia A. Myers Nexus of Art and Engineering Program to facilitate partnerships among faculty and students in engineering and the arts. In the words of program director Deanne Wortman, Myers "didn't see any kind of boundaries between disciplines. She was very open to just the idea of making art."
Virginia Myers died in December 2015, but her inspiring legacy endures through her work, which brought a new art form to life and helped define the University of Iowa's artistic legacy.
Myers was a member of the UI Foundation's Presidents Club.