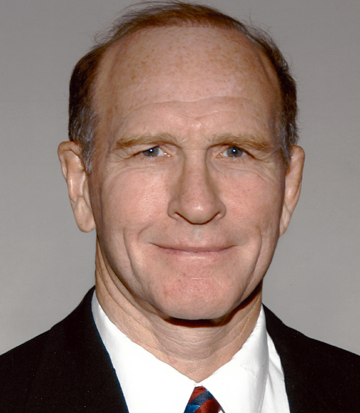 Dan Gable
---
Dan Gable is a gold medal-winning Olympic wrestler and former University of Iowa multinational championship head coach who has dramatically elevated American amateur wrestling by becoming the sport's greatest ambassador.
After going to the mat in Munich in 1972 and famously taking the gold without surrendering a single point, Gable accepted a job as an assistant wrestling coach at the UI. This decision launched his career as the most successful head coach in American collegiate history.
From 1976 to 1997, Gable led the Hawkeyes to 15 NCAA national wrestling titles and 21 Big Ten championship titles. During those years, he coached 152 all-Americans, 45 national champions, 106 Big Ten champions, and 12 Olympians.
"When you finally decide how successful you want to be, you've got to set priorities," says Gable. "In 25 years as a head coach and assistant, I think I might have missed one practice. Why? Because practice was my top priority."
This ethos guided Gable's work as an Olympic head coach on three different occasions—in 1980, 1984, and 2000. His 1984 Olympic team, which featured four Hawkeye wrestlers, won seven gold medals. He also served as head coach of the World Team for six different years.
"The UI has been blessed with many outstanding faculty, staff, and students who have been national, and even international, icons in their endeavors," says UI Athletics Director Gary Barta. "Such is the case with Dan Gable and wrestling. He stands in his own class."
Gable has been the subject of several ESPN and HBO documentaries, and has been named to the U.S.A. Wrestling Hall of Fame, the U.S. Olympic Hall of Fame, and the National Wrestling Hall of Fame. In June 2002, President George Bush appointed him to the President's Council on Physical Fitness and Sports.
Recent accolades include being named top wrestler of the 20th century by Gannett News Service and one of ESPN's top coaches of the 20th century. In 1996, Gable made the list of "100 Golden Olympians," which honors the top 100 U.S. Olympians of all time, and during the 2012 Olympic Games, he was inducted into the elite FILA Hall of Fame Legends of the Sport. In 2015, Gable added New York Times best-selling author to his impressive résumé with the publication of his memoir, A Wrestling Life: The Inspiring Stories of Dan Gable. From his childhood in Waterloo to the pressures of the Olympic stage to coaching the Brands brothers, Gable offers an intimate glimpse into his personal life—including the people and experiences that shaped his indomitable, resilient spirit.
When the International Olympic Committee decided in 2013 to drop wrestling as one of the core sports of the 2020 Olympics, Gable was instrumental in reversing the decision later that year.
"Dan Gable's name works magic in many circles…and carries with it his enduring association with the University of Iowa," says Mike Chapman, a former sports editor of the Gazette in Cedar Rapids.
Thanks to Dan Gable's uncompromising talent and grit, both on and off the mat, Iowa's most successful coach has become a legend in the world of wrestling.