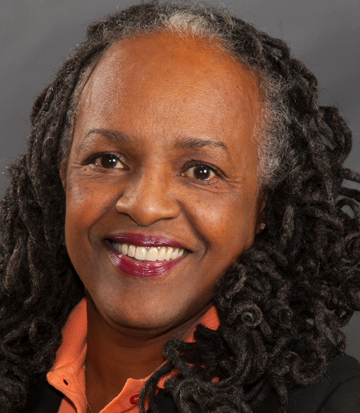 Nancy Humbles
---
Nancy J. Humbles, 97MA, has been a strong advocate for diversity and equity at the University of Iowa, and she helped forge new paths for students of color and other underrepresented groups on campus.
As the founding creator and retired director of the UI Center for Diversity and Enrichment, Humbles was instrumental in establishing programs that provide a welcoming climate for students, faculty, and staff from marginalized communities. She also fostered meaningful personal connections with students who were navigating the ins and outs of college for the first time.
"Nancy had a keen ability to connect with individual students," says John Laverty, a senior associate director of the UI Office of Admissions. "She helped them succeed, and she took many of them under her wing, without fanfare, to help them maximize their personal potential and keep moving forward each day."
Such guidance came naturally to Humbles, who earned a master's degree in student development in postsecondary education from the UI College of Education while working at Iowa.
She first joined the UI in 1990 as an academic planning counselor in Special Support Services and then as an advisor in the UI Henry B. Tippie College of Business. As the assistant director of advising at Tippie, she developed the Student Incentive Program, a summer program for minority and first-generation students. She also served as multicultural affairs coordinator and interim program coordinator for Opportunity at Iowa.
In 2007, Humbles became the director of the UI Center for Diversity and Enrichment. "That is my favorite UI memory because it validated all of my hard work," she says. In this role, she coordinated outreach opportunities and resources for underserved students from diverse backgrounds, including students of color, first-generation college students, and students from low-income families.
Tevin Robbins was one such student—and credits Humbles with helping to shape who he is today. Robbins was an Advantage Iowa Scholar and a single-parent student at Iowa; now he is the assistant director for student leadership development at Tippie—and he says Humbles made that possible. "The impact she made on my life could never be repaid," says Robbins. "She pushed me to pursue graduate school, and she even persuaded me to join her in her field, serving college students."
Since retiring from the UI in 2015, Humbles has widened her reach as a community volunteer. She was elected as the first African American to serve on the Cedar Rapids Community School District Board of Education in 2009 and was re-elected in 2013. She is president of the Area Substance Abuse Council, volunteers on the United Way Healthy Solutions committee, co-chairs the African American Museum of Iowa's History Makers Gala, and serves as the finance chair at Fellowship Missionary Baptist Church in Cedar Rapids. Humbles also previously co-chaired the National Association for the Advancement of Colored People (NAACP) Freedom Fund Banquet and served as a board member for Four Oaks in Cedar Rapids, president of the Jane Boyd Community House in Cedar Rapids, and president of the UI African American Council.
Through her steady guidance and unwavering belief in personal potential, Nancy Humbles has helped countless University of Iowa students achieve their academic dreams.