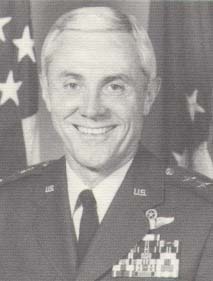 Gary H Mears
---
Gary H. Mears, 58BSC, has had a long and distinguished career in the United States Air Force. Now a lieutenant general, he is director for logistics for the Joint Chiefs of Staff at the Pentagon.
A native of Grand Junction, Mears was commissioned through the Reserve Officer Training Corps program in 1958. He entered primary flight training at Malden Air Force Base, Missouri, and received his pilot wings in April 1960, after completing basic flying training at Laredo Air Force Base, Texas. In 1978, he received a master's degree from Troy State University and also graduated from the Air War College.
A command pilot with more than 6,000 hours flying time, Mears has served at bases across the country, including Donaldson Air Force Base, South Carolina; Hunter Air Force Base, Georgia; and Norton Air Force Base, California. In 1968, he was assigned to the 834th Air Division, the group that was responsible for tactical airlift in Southwest Asia. Mears, whose many decorations include the Distinguished Service Medal and Bronze Star Medal, has administered both Air Force airlift wings and logistics centers.
As director for logistics for the Joint Chiefs of Staff, Mears advises Joint Chiefs Chairman Colin Powell on logistics issues and ensures that the U.S. Armed Forces are logistically capable of supporting the nation's military strategy. In essence, he is responsible for having all equipment and materials in the right place at the right time, including combat equipment—air and ground—as well as all support requirements, such as food and shelter.
In 1989, Mears orchestrated the logistics plan behind Operation Just Cause, the coordinated rapid deployment of troops and material into Panama. The next year, he serves as the primary logistics advisor to Secretary of State Richard Cheney and General Powell during Operations Desert Shield and Desert Storm. Most recently, Mears has played a key role in the planning and execution of humanitarian support around the world, including relief efforts in the former Soviet Union, eastern Turkey, northern Iraq, Somalia, and the former Yugoslavia.
In addition to his distinguished service to the nations, Mears is a loyal friend of the University of Iowa. He and his wife Jacqueline are members of the Alumni Association's Old Capitol Club.