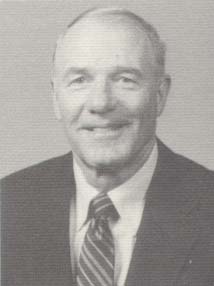 Chalmers W. Elliott
---
Chalmers W. "Bump" Elliott, director of intercollegiate athletics for men from 1970-1991, has been a dedicated friend of Hawkeye athletics and the University of Iowa.
A team player at the UI, Elliott kept the total university's interests in mind as he molded one of the top athletic programs in the country. Under his tenure, the Hawkeyes won 27 Big Ten titles and 11 NCAA championships, while the Iowa program developed a reputation for high ethical standards and adherence to NCAA regulations. Attendance at football and men's basketball games increased dramatically under Elliott's leadership, and it became common for both sports to be sold out annually on a season-ticket basis.
Elliott's dedication extends far beyond the confines of athletic competitions. He has worked tirelessly with UI Foundation staff at numerous speaking engagements and capital campaign fundraising functions. He was instrumental in the planning and construction of Carver-Hawkeye Arena, the renovation and enlargement of Kinnick Stadium, the construction of Iowa's indoor practice facility, and improvements in several other athletic facilities on the UI campus. Elliott was a key leader in the creation of the Hawkeye Television Network, which brings both men's and women's sports into the homes of many Iowans who might not otherwise have access to Hawkeye athletics. He also served as honorary chairman of the Ronald McDonald House Campaign and was an honorary member of the Bill Barnes Capital Fund Campaign in the College of Business Administration.
A former athlete himself, Elliott is the only man who has appeared in the Rose Bowl as a player, assistant coach, assistant athletic director, and athletic director. In 1989, he was inducted into both the College Football Hall of Fame and the inaugural class of the Rose Bowl Hall of Fame.
Elliott and his wife Barbara are members of the UI Foundation's Presidents Club and life members of the Alumni Association.