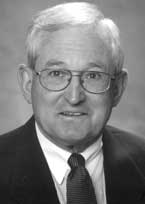 Kent P. Falb
65BS, 65PT
Achievement 2004
---
Kent P. Falb, 65BS, 65PT, knows the true meaning of the phrase blood, sweat, and tears in the world of professional football. As one of the nations most respected athletic trainers, he has helped generations of athletes both prevent and recover from a host of sports-related injuries. With a talent that took shape on the University of Iowa campus, Falb has achieved a lifetime of accomplishments.
The Elgin, Iowa, native first worked as an assistant athletic trainer for the United States Military Academy at West Point in 1959. Soon after returning to the University of Iowa campus, he began work as a student athletic trainer, eventually moving up to the role of assistant athletic trainer—and also working two summers for the Minnesota Vikings before completing his undergraduate work.
After his Iowa graduation, Falb put his UI experience to work as the head athletic trainer for Boston College. It wasnt long, however, before this small-town boy landed a high- profile position with the Detroit Lions—and joined a team to which he would belong for 34 years. Falb began his lengthy tenure with the Detroit Lions as assistant athletic trainer but quickly became head athletic trainer, a job he would hold until his retirement in 2000.
Throughout these years with the National Football League, the dedicated trainer also found time to make other important contributions to his field. He devoted his career to promoting athletic-trainer advancement, both as a lecturer on the subject and as a leader in various related organizations. Falb served as president of the Michigan Athletic Trainers Society (MATS) from 1989 to 1990 and became president of the National Athletic Trainers Association (NATA), where he served two terms, from 1996 to 2000.
The NATA recognized his achievements by naming him Professional Athletic Trainer of the Year in 1984 and inducting him into its Hall of Fame in 1999. Falb also is a member of the MATS Hall of Fame, and he received the Fain-Cain Award as the Outstanding NFL Athletic Trainer in 1999. These are just a few of the numerous awards and honors he has earned from a lifetime of hard work and distinguished service.
Though he has retired from his position with the Detroit Lions, the Aiken, South Carolina, resident has not stopped working. Falb has been a tireless athletic-training advocate, encouraging athletic trainers, physical therapists, and students to pursue their dreams in this field. He continues to travel the nation—visiting 35 different states to date—as a professional speaker on the topics of athletic training and sports medicine and he currently lectures in the Athletic Training Program at Erskine College in South Carolina.
Kent P. Falb embodies the commitment and discipline of a true UI graduate. After experiencing both the glory and agony of life as an athletic trainer in professional sports, this dedicated leader has continued to inspire others with the valuable lessons he learned from his teamwork at Iowa and the NFL.