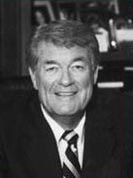 John Hayden Fry
non-UI grad
Faculty Staff 1999
---
John Hayden, who recently retired from his 20-year tenure at the helm of the Iowa football program, is the University of Iowa's winningest football coach and just the sixth football coach in Big Ten history to lead a team for two decades. Fry has a 143-89-6 record with the Hawkeyes and a career mark of 232-178-10. He ranks tenth in all-time Division I victories.
Autumn football Saturdays in Iowa City have been ruled by Fry for so long that many students now on campus were not even born when Fry started coaching at the University of Iowa. After several losing seasons on the gridiron, the Hawkeyes wanted a winner, but then-athletic director Chalmers "Bump" Elliott expected even more. He wanted someone he'd be proud to be associated with-a man capable of managing a football program that would become a key element in an up-and-coming athletic department. As Elliott said a few weeks after Fry announced his retirement last fall, "Hayden Fry far exceeded all our expectations."
And in doing so, Fry changed the culture around Hawkeye football, giving Iowans much to be proud of. Bold new uniforms. The Tiger Hawk. The Swarm. A pink locker room for the visiting team. The Bubble. Little Dumplings. The Hokey-Pokey. Dark glasses, white pants, and cowboy boots. A new industry spawned by the commercialization of UI colors and emblems. And-something unknown in the state for a long time-bowl expectations.
Along with being named Big Ten Coach of the Year three times, Fry has been named Coach of the Year, both regionally and nationally, by the media and the American College Football Coaches Association. Fry has received the Robert R. Neyland Memorial Trophy, the Johnny Vaught Lifetime Achievement Award, and the Baylor University Distinguished Alumni Award. He is also one of a select few to be named to the Texas High School Football Hall of Fame and the Texas Sports Hall of Fame, where he is honored both as a player and as a coach.
In Iowa and across the country-not just on the football field and not only on campuses or among alumni-Fry is a hero. In 1985, Fry adorned the Iowa helmets with a simple gold circle declaring "America Needs Farmers." Fry has said that the thing he is most proud of at the University of Iowa is putting the ANF on Hawkeye headgear, a small effort that helped attract national publicity to the economic plight of Midwest farmers.
Fry has served as an honorary board member for the Iowa Special Olympics, he assists in raising funds for muscular dystrophy, and he has helped raise funds for numerous organizations, including the American Diabetes Association, the Iowa Council for Better Hearing and Speech, the Iowa Association for Retarded Citizens, and the Cystic Fibrosis Foundation.
Fry has been motivated primarily by what he considers right. "In football," he says, "like in life, you must learn to play with the rules of the game. We're going to foul up once in a while, but people need to know we don't do it on purpose. Playing the game with integrity-that's what it's all about."