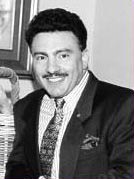 David A. Hamod
---
David A. Hamod, 81BA, founder and president of Intercom, an independent consulting firm, has become highly successful in solving problems that cross borders and entangle cultures as he works with businesses worldwide to enhance U.S. competitiveness.
Hamod has carved out a niche as Washington's point man for Americans living and working abroad. He helps dozens of American chambers of commerce foster international business relationships, and he heads a coalition of some 75 associations dedicated to promoting U.S. exports.
It's not surprising to find Hamod in the middle of many sensitive situations. When Saddam Hussein released American hostages a few years ago, Hamod introduced them to the vice president of the United States and helped coordinate their reentry into American life. And, in 1996, the White House asked Hamod's company to put together the final report on the White House Conference on Aging.
On a daily basis, Hamod works with the Paris-based World Federation of Americans Abroad to tackle a variety of quality of life issues that affect Americans overseas-everything from citizenship and voting rights to taxation and health care.
Hamod's pro bono community service work is impressive. In a project through Rotary International, he helped set up an AIDS awareness and prevention program in Thailand. Current projects he's involved with include providing a minivan to an orphanage in Romania, sending books to Bhutan, and building a teachers' training hostel in Cambodia.
After graduating as valedictorian from Iowa City High School, Hamod could have gone to college almost anywhere, but he chose his hometown university. For him, he says, the university combined the best of all worlds: a high-quality education and a crossroads for international wayfarers. In his junior year, he studied abroad at the American University of Cairo, an experience he credits with opening his eyes to a more global, sophisticated understanding of the world. Hamod graduated with honors, later spent another year abroad, this time in Jerusalem, and then went on to earn his master's degree in international relations and economics from the Johns Hopkins University School of Advanced International Studies in 1985. Between those two years overseas, Hamod says, he gained an appreciation for all peoples in the Middle East.
Whatever venue he chooses, Hamod uses his expertise to bring people together in positive ways. He believes that the next quarter century's business opportunities will lead into uncharted territory, as cyberspace opens up new commercial horizons around the world. But Hamod is adamant about people being the key to the success of these new opportunities. "High technology alone will never replace the glue that binds international business," he says. "Those ties depend on human relationships."
Hamod is a member of the UI Alumni Association's Old Capitol Club.