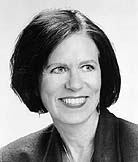 Katherine Hammer
67BA, 69MA, 73PhD
Achievement 1998
---
Katherine "Kay" (Gonet) Hammer, 67BA, 69MA, 73PhD, is cofounder, president, and chief executive officer of Evolutionary Technologies International (ETI), an Austin, Texas, firm that is revolutionizing the way companies worldwide modernize and consolidate otherwise incompatible computer systems.
Hammer, a native of Shreveport, Louisiana, has inspired entrepreneurs everywhere, particularly women and liberal arts graduates, with her success at ETI. After teaching linguistics at Coe College in Cedar Rapids and Washington State University in Pullman, Hammer divorced in 1980 and moved her family to Austin, Texas, where she studied computer science. One year later, she was working 60-hour weeks at Texas Instruments, while raising her two children. In 1984, she joined Microelectronics & Computer Technology Corporation (MCC), an industry-backed computer research consortium based in Austin.
At MCC, Hammer conceived the idea that would ultimately lead to the creation of Evolutionary Technologies. She overcame many challenges before realizing her vision of writing software that could automate the process of keeping related data consistent throughout large organizations. With another colleague, Hammer cofounded Evolutionary Technologies International in 1991.
Growing at a phenomenal rate, the company soon became an ideal investment opportunity for venture capitalists and was ranked 15th on Inc. Magazine's 1997 list of America's 500 fastest growing private companies.
Hammer received Austin's High Technology Entrepreneur of the Year Award in 1993 for demonstrating a "can-do spirit of innovation, ingenuity, and drive." One ETI investor has said, "Kay gets good work from her scientists because she works so hard herself."
A noted business leader and speaker in Austin and throughout the country, Hammer participated in President Clinton's March 1995 White House Southern Region Economic Conference in Atlanta. She also appeared in a Forbes magazine cover story on women leaders of successful high-tech businesses, and she was featured in "The Entrepreneurial Revolution," a 1997 PBS documentary focusing on the achievements of several of the country's top entrepreneurs.
Hammer is an annual member of the UI Alumni Association.