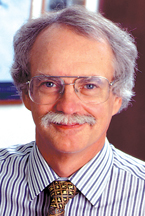 Ronald Ross
75MS, 75MD
Achievement 2006
---
Ronald Ross, 75MS, 75MD, is a pioneering researcher whose breakthroughs in understanding the causes and prevention of cancer bring hope to sufferers of this dreaded disease.
Chair of the Department of Preventive Medicine at the University of Southern California—the nations highest-ranking preventive medicine department in terms of National Institutes of Health funding—and deputy director of the USC Norris Comprehensive Cancer Center, Ross has blended a professional and research education that began at the University of Iowa into a highly productive and internationally recognized research career.
Born in Muscatine, Iowa, Ross earned a bachelors degree at Rutgers University and then returned to his native state to attend graduate school at the University of Iowa. There, in 1975, he received both his medical degree and his masters in preventive medicine and environmental health. After a year-long fellowship in cancer epidemiology at the UI, he headed west to begin a remarkable 30-year career at the University of Southern California (USC).
Ross joined USC as an instructor in what was then the Department of Community and Family Medicine and took up a succession of increasingly senior positions. Since 1987, he has also served as director of the Los Angeles County/University of Southern California Cancer Surveillance Program, a leader in conducting population-based studies of disease and evaluating demographic patterns of cancer risk.
Ross is now one of USCs top-funded faculty members, attracting research grants, kudos, and awards from the National Institutes of Health, the National Cancer Institute, and the National Center for Environmental Health Sciences. Through his research and more than 300 scientific publications, he has greatly advanced our understanding of cancer.
In particular, Ross is a leading expert in hormone-related cancers, especially of the breast, ovary, endometrium, and prostate. He correctly predicted the potential chronic health risks faced by women who are prescribed hormone replacement therapy, and he was the first researcher to demonstrate that regular use of permanent hair dyes is a strong risk factor for bladder cancer in women. Some of his current research projects aim to prevent prostate cancer by blocking the activity of an enzyme, to determine why certain high-risk populations have lower incidences of bladder cancer, and to help scientists in China identify dietary causes of cancer in their country.
Such far-reaching work has garnered international acclaim, including an award from the International Union Against Cancer, and invitations to teach and study at universities in England, Australia, and Japan. At home and abroad, though, Ross is appreciated for far more than his scientific excellence. Colleagues and peers speak highly of him as an inspirational role model, mentor, and leader who displays integrity and high ethical standards.
Ross is also generous with his time and expertise, having served as an advisor to several cancer and research programs. At his alma mater, he put his expertise in cancer prevention to valuable use as a member of the UIHCs Holden Cancer Comprehensive Center External Advisory Committee. Currently, he is a member of the board of advisors for the College of Public Health, which in 2004 awarded him its Outstanding Alumni of the College Award.
Through his passion and commitment to legions of cancer sufferers, to his alma mater, and to scientific research, Ronald Ross has demonstrated that he is one of the University of Iowas most distinguished alumni.