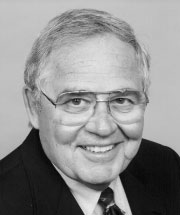 Fred J. Zamberletti
---
Fred J. Zamberletti, 55BA, has enjoyed an illustrious 50-year career in physical therapy and sports medicine that started with the Hawkeyes and took him to the NFL.
After graduating from the UI in 1955 with a physical education degree and in 1956 with a certificate in physical therapy, Zamberletti became an assistant athletic trainer for the UI football team. He moved on to become chief physical therapist at Hibbing General Hospital in Minnesota and later head athletic trainer at the University of Toledo in Ohio. In 1961, during the Minnesota Vikings' inaugural season, he joined the team as its first athletic trainer.
Faithfully serving under five head coaches, Zamberletti became known to the team and fans as "The Man," widely respected for his compassion and skill as he put injured players on the road to recovery and rehabilitation. Throughout the years, he earned admiration and trust as a friend and mentor to countless Vikings players, coaches, and colleagues.
Until 2003, Zamberletti worked full-time with the club, including a few years as its medical services coordinator. While with the team, he also owned and operated successful physical therapy clinics in the Twin Cities for several years. Even following his retirement, "Mr. Viking" continues his involvement with the team he helped take to four Super Bowls, acting as the Vikings' senior consultant and historian. He can claim a part of that history, as he has never missed a single Minnesota pre-season, regular season, post-season, or all-star game. Entering the 2010 season, his attendance streak stretched beyond 1,000 games.
For his longstanding service to the Vikings, Zamberletti has earned the highest respect of his peers, who honored him as the 1986 Professional Football Athletic Trainer of the Year, the 1996 National Football League Athletic Training Staff of the Year, and with the 1999 NFL Physicians Sports Sciences Symposium's Cain Fain Award. He has been recognized as an honorary fellow of the Minneapolis Sports Medicine Center, inducted into the Minnesota Athletic Trainers Hall of Fame, and named by the Minnesota governor as an honorary ambassador of the state.
The Vikings also have decorated Zamberletti with the franchise's prestigious Ring of Honor and with a Fred Zamberletti Day at the stadium on December 20, 1998, when more than 100 Vikings alumni returned to celebrate his professional achievements.
Zamberletti credits former UI basketball coach Bucky O'Connor and former track coach George Bresnahan for their support in helping him enter a career in what was then a newly minted field. Despite his loyalty to the Vikings, Zamberletti still wears black and gold every Saturday during the fall in honor of his alma mater.
As a pioneer in the field of athletic training, Fred J. Zamberletti acts not only as the "Cornerstone of the Vikings," but also as an outstanding ambassador and humanitarian for the University of Iowa.
Zamberletti is a life member of the UI Alumni Association.