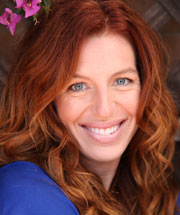 Tanna M. Frederick
---
Tanna M. Frederick, 99BA, is a rising movie star whose enthusiasm and determination have helped her fashion a successful Hollywood career while remaining connected to the University of Iowa and other causes she holds dear.
After majoring in theater and political science at Iowa—where she was a UI Homecoming Queen and a member of the Hawkeye Tae Kwon Do team—Frederick graduated Phi Beta Kappa from the College of Liberal Arts and Sciences in 1999 as valedictorian of her class. She also performed in numerous theater productions while at the UI, including a one-woman play, Questioning Jabe, which she wrote herself.
Following graduation, she chased her Hollywood dreams to L.A., where, like most young actors, she worked dozens of small jobs while taking acting classes and landing the occasional commercial or a spot on soap operas like Days of Our Lives. However, her persistence and willingness to take risks paid off when she finagled a meeting with influential independent-film director Henry Jaglom.
This proved the big break that helped Frederick beat the odds in Tinsel Town. Since then, she has starred in five of Jaglom's films, including Irene in Time, Hollywood Dreams, and Queen of the Lot (alongside Noah Wyle of ER fame). She also appeared in the Jaglom play Just 45 Minutes from Broadway with Judd Nelson. More recently, she made her directorial debut and starred in Claire Chafee's Why We Have a Body—a production that Frederick did at the UI in 1996.
Frederick credits the UI Department of Theatre Arts for not only giving her the chops to catch the attention of directors, but also for nourishing her independent, experimental approach to theater and cinema production. Now that she has achieved a level of success that allows her to "pay it forward," she is doing just that. Frederick often returns to the UI campus to talk with UI theater and film students—providing young actors with intimate, personal instruction and encouragement.
She also established the Tanna Frederick Scholarship for Theatre Arts, an annual scholarship for an incoming theater student—and she even inspired Jaglom to create a scholarship of his own at Iowa. In honor of these contributions, the UI Department of Theatre Arts inducted her into the Iowa Theatre Gallery, which highlights distinguished alumni.
In addition to mentoring UI theater students, she helped establish the Iowa Independent Film Festival in her hometown of Mason City in 2006. Frederick also aims to reinvigorate the Iowa film industry through her "Project Cornlight." The first film, The Farm, due to start filming in June 2012, will tap local Iowa talent. Beyond her film and theater interests, Frederick co-founded the non-profit Project Save our Surf, which helps provide clean water for children and families locally and globally.
No matter where she is or what she's doing, Frederick throws herself into the projects that matter most to her. Tanna M. Frederick may be a budding Hollywood movie star, but she remains an Iowa girl at heart—and an inspiration to those around her.