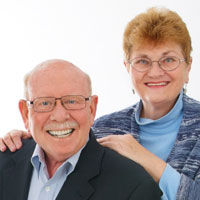 Dale Baker
---
Dale Baker, 68BBA, and Linda Ihrke Baker, 68BA, are longtime University of Iowa advocates who have used their achievements in the areas of health care and education to create life-changing opportunities for UI students and faculty.
After going on a blind date as first-year students to a Hawkeye men's basketball game, the Bakers went on to graduate from the UI in 1968—Dale with a B.B.A. degree in business administration and accounting, and Linda with a B.A. degree in English and a certification in secondary education. They married just a few months after graduation.
Dale Baker enjoyed a successful career in public accounting at Ernst & Young, where he rose to partner before taking the entrepreneurial plunge. In 1990, he founded Baker Healthcare Consulting, which specializes in Medicare payment strategies. He also has consulted with members of Congress on a variety of health care issues and worked as a federal lobbyist.
Driven by a desire to help others, Linda Baker pursued community and children's services opportunities, working as a preschool teacher for a United Way agency, as a middle school teacher, as an investigative reporter for a local consumer magazine, and spent 19 years working in an elementary school library.
"Their example of providing financial support for the next generation of students is inspirational."
Since their years at the UI, the Bakers have remained linked to their alma mater through acts of volunteerism and altruism. "Both Dale and Linda are role models of service and philanthropy for today's students," says Sarah Gardial, dean of the UI Henry B. Tippie College of Business. "Their example of providing financial support for the next generation of students is inspirational."
Together, the Bakers have invested in a variety of UI programs and initiatives. Among their numerous and noteworthy gifts are three unrestricted funds to support the Tippie College of Business and the Colleges of Education and Public Health, as well as the Dr. Ken Magid Child Advocacy Service Scholarship Fund, which memorializes Linda Baker's former teacher and mentor. This fund helps UI students cover expenses related to volunteer service-learning opportunities in Romania, Ecuador, and Cuba. Additionally, the Bakers support the Linda R. Baker Teacher Leader Center and an initiative that donates iPads to incoming students in the College of Education.
In spring 2005, Linda Baker spent three weeks volunteering in a Romanian orphanage through the UI Alumni Association's Iowa Voyagers program. The experience moved her to establish a scholarship through the UIAA for UI students to have similar opportunities.
The Bakers—who both have traveled extensively, including on trips to Russia and Jordan through People-to-People Global Peace Initiatives—embrace this spirit of giving in all they do. Dale Baker is a member of the UI Foundation's board of directors, and Linda Baker served on the UI Alumni Association's board. The two also serve as co-chairs of the UI Alumni Association's fundraising campaign. They are ardent Hawkeye fans, and, as Dale Baker says, their UI experiences "actually never ended" because of the "cherished lifelong friends" they have made during their college days and years as volunteers and donors.
Linda Baker's father once told her, "When you're able, help out other students," and Dale and Linda Baker have used their deep and meaningful University of Iowa connections to do just that.
The Bakers are members of the UI Alumni Association's Directors' Club Honors Circle and the UI Foundation's Presidents Club.