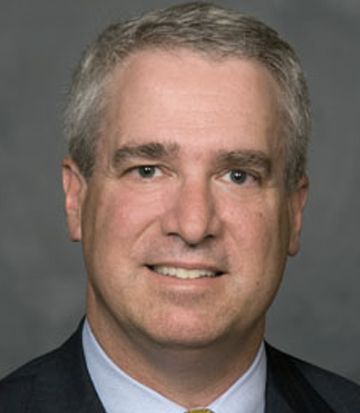 Stephen Corbeil
---
Stephen E. Corbeil, 84MA, is an innovative leader of hospitals and health care systems who has charted a stable course through the industry's turbulent changes.
During his distinguished career—which began with a role as chief executive officer of a 137-bed regional referral center, just five years after his graduation from the University of Iowa College of Public Health's master of health administration program—Corbeil has earned a reputation as an inspiring mentor and forward-thinking executive.
For more than 25 years, he has successfully managed multiple health care organizations in numerous cities and states. He has held senior management positions with Tenet Healthcare in St. Louis and the Hospital Corporation of America (HCA) in Nashville. In December 2016, he retired as president of TriStar Health, a division of the HCA comprised of 22 hospitals, nine ambulatory surgery centers, and 275 employed physicians in Tennessee, Georgia, and Kentucky. He now serves as a consultant with HCA, primarily engaged with its executive development program.
"Fundamental changes sweeping the health care arena have required health systems like those under Steve's direction to develop new business and patient models," says Sue Curry, the UI's interim provost and dean of the College of Public Health. "Amid the changes and challenges, Steve has been a steady and strategic guide for the health systems he has served."
Such guidance included the creation of new business and patient-care models; the integration of patient populations and technologies; and the expansion, renovation, and consolidation of facilities in the various communities served.
Along the way, Corbeil has stayed true to his Hawkeye roots. He is deeply connected to his alma mater, serving on the alumni board for the UI College of Public Health's Department of Health Management and Policy from 2000 to 2012 and receiving the college's 2011 Outstanding Alumni Award. He has been active on the college's campaign committee, and he and his wife, Mary Kay, generously established a fellowship fund for deserving UI master of health administration students.
Corbeil is passionate about nurturing tomorrow's health care leaders. Not only was he instrumental in developing the HCA's executive leadership development programs, but he also has been a professional and personal mentor to many UI health management and policy students—and a preceptor for summer interns and post-graduate fellows.
"A familiar HCA saying…is that 'good people beget good people,'" says R. Milton Johnson, chairman and chief executive officer of the Hospital Corporation of America. "This is clearly evident in Steve's mentorship of young leaders."
Corbeil also gives back to his community. A fellow of the American College of Health Care Executives, he has served on numerous boards and service organizations—including the board of trustees for Tennessee State University in Nashville, the Governor's Foundation for Health in Tennessee, the Federation of American Hospitals, and the American Hospital Association.
With great insight and compassion, Stephen E. Corbeil has helped transform our nation's health care system and ensured patients' well-being for years to come.
Corbeil is a member of the UI Alumni Association and the UI Foundation's Presidents Club.